Planning your fencing
Determine where fence go
Extend fenced area
Flood prone areas
Access to drains
Fencing waterways on your dairy farm protects freshwater from pollutants and creates a habitat for various species. When planning your fencing, consider farm layout and potential for improved grazing management. By law, you need to keep dairy cattle away from lakes and waterways wider than 1m, with new fences built at least 3m from the water. Adjust the buffer zone based on rainfall runoff, leaving wider grass buffers in more concentrated areas. You should also extend fencing to seeps, wetlands, swamps and springs. Keep in mind, fencing in flood-prone areas and around drains needs a strategic approach.
Fencing waterways protects freshwater from nutrients, effluent and sediment by excluding stock and creating a buffer between water and the land. Fencing will help to maintain and improve water quality and create a habitat for birds and freshwater species.
Planning your fencing
Waterway fencing needs to be far enough back to allow for movement/flooding of the waterway.
Start by mapping your waterways and create a fencing plan.
Consider the overall layout of your farm; along with protecting waterways, new fencing can improve grazing management and stock control.
Plan out fence lines and crossing points.
Determining where your fence should go
Under the nation-wide stock exclusion rules, all dairy cattle need to excluded from all lakes and waterways with a bed wider than 1m. All new fences erected after 3 August, 2020 need to be a minimum of 3m away from the waterway. If your fence was erected prior to 3 August, 2020 it does not need to be moved, unless it needs to be replaced, in which case it needs to comply with the 3m stock exclusion.
This rule is a minimum standard and regional council rules, and conditions of milk supply can be more stringent.
If you do need to erect a new fence or replace an existing fence it is best to create a variable width buffer. What we do know is that rainfall runoff from paddocks is not uniform and becomes concentrated into swales (common terms include critical source areas, depressions, run off channels)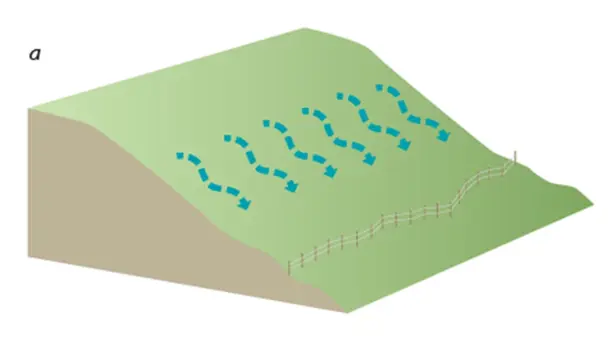 In these areas, there is a benefit of leaving a wider grass buffer in these areas (see figure b above). In some instances, there will also be a benefit to exclude stock as well.
This approach means you don't have to retire large areas of land (beyond the minimum now required) and the land you do retire will be the most at-risk areas where the benefit is the greatest.
In these situations, the best approach is to leave the wide buffers in these swales in rank grass. You may even want to consider a sediment trap. Where there are no swales, the use of riparian planting can provide instream water quality benefits and biodiversity benefits.
Extend fenced area to include seeps, wetlands, swamps and springs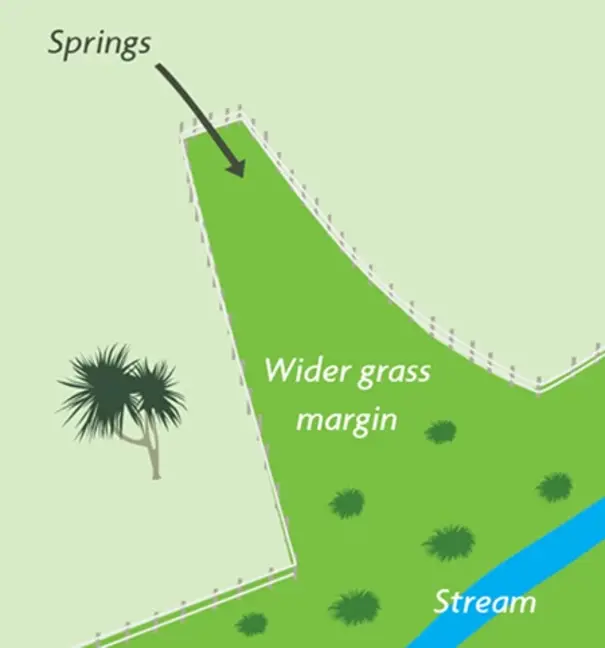 Additional benefits
Reduces stock losses
Provide habitat for bird life
Limitations
May result in loss of grazing land
Needs stringent weed control
Higher cost if planting required
Fencing in flood prone areas
Use fewer upright posts and less wire – this way less debris will catch on the fence. Do not use netting as it will trap debris.
Put wires on the downstream back side of posts so the staples pop and the wire drops rather than pulling out the posts and strainers.
Use un-barbed staples so wires can pop off more easily.
Erect fences parallel with the way the stream floods so the fence does not collect debris.
Have fences further back where active erosion is occurring
Construct separate 'blow-out' sections across flood channels.
Maintaining access to drains
Build an electric fence that can be dropped or removed to allow access. E.g. Use pinlock insulators so that the wires can easily be lowered for machinery to cross.
Position the fence so that a long reach digger can reach over the top.
For wide waterways, place a fence far enough back to allow a digger to work between the fence and the bank. This approach still allows for a wide grassy margin and you can plant low growing plants on the waterway margin if you wish.
Do not cut off gateways that give diggers access to neighbouring paddocks.