Exploring riparian buffer types
Cut and carry pasture
Rotation coppice for fodder
What species are suitable?
Aren't willows a weed?
Trees falling in the waterway
Harvesting and feeding
Rewarewa
Case study
Flax for propagation
Case study
Pollarding willows
Establishment and management
Riparian buffers are planting methods near waterways that benefit both the environment and farming economy. In New Zealand, effective buffers include cut and carry pasture, short rotation coppice for fodder, rewarewa for honey and timber, flax for propagation and weaving, and pollarding willows and poplars for fodder. This page provides details on the pros and cons of these planting types, along with guidelines on managing each species and methods for harvesting. Understanding these techniques can help you choose the best approach for your farm's specific needs.
Exploring riparian buffer types
Cut and carry pasture
Easy to establish and manage, with excellent sediment trapping and nutrient removal.
Read more
In this option, the grass (and the nutrients it has captured) are removed by mowing for silage/hay. Pasture and native grasses (sedges) are excellent filters of nutrients and sediment in runoff, improving water quality and saving money by reducing the need to clear drains.
| | |
| --- | --- |
| Establishment cost | $0* |
| Years to first harvest | 0 |
| Annual profit | $160 |
| End of life value | $0 |
| Annual environmental benefit | |
| Nitrogen removed | 300 kg/ha |
| Phosphorus removed | 44 kg/ha |
Pros
Most economically favourable option.
Establishment cost is limited to fencing – if waterway already has a fence, the additional fence could be a single wire or temporary.
Removes very large amounts of nitrogen and phosphorus.
Reversible and familiar.
Maintains access for drain cleaning and no risk of roots blocking tile drains.
Simple weed management.
Cons
Land must be mowable and strip must be wide enough for mower.
Doesn't provide shade for stream or habitat for wildlife.
Doesn't stabilise bank.
Limited flexibility in harvesting time.
Steps to establish and manage
If the waterway is already fenced near the edge, that fence can remain.
Plant deep-rooted grasses/sedge along water's edge. These reduce sediment runoff and may shade out some aquatic weeds, reducing the need to clean drains.
Ensure the second fence is far enough from the waterway to allow for mowing or for digger access to clean the drain.
Harvest several times a year and feed fresh or preserve as hay/silage.
Short rotation coppice for fodder
Good nutrient removal but establishment requires a lot of manual labour.
Read more
Willow or poplar wands are planted at high density and mown 10-15cm above ground-level each autumn. The harvested plant can be fed directly to stock or chipped for addition to other feed or made into silage.
| | |
| --- | --- |
| Establishment cost | $24700 |
| Years to first harvest | 1 |
| Annual profit | $1645 |
| Annual environmental benefit | |
| Nitrogen removed | 100 kg/ha |
| Phosphorus removed | 9.8 kg/ha |
Pros
Provides rapid stream bank stability
Can produce wands for planting elsewhere on farm
Some flexibility in harvesting – annual or biennial
Decent nutrient removal but low carbon sequestration
Cons
Establishment cost is very high because it is labour intensive
Harvesting may also be labour intensive if contour and spacing doesn't suit the harvester
Fodder produced may be low quality (6 MJ ME/KgDM and 40-50% ADF)
What species are suitable?
Many species will coppice successfully but poplar and willow are most common in New Zealand. The most suitable species or clone for a specific riparian site will depend on climate, soil moisture, and risk of diseases and pests.  Poplar generally do not like wet feet so may be best suited to drier riparian zones.  Willow are better suited for wet/swampy zones.  Your regional council can provide advice on species selection and sourcing wands
Aren't willows a weed?
Modern varieties are available that propagate easily but do not produce seedlings.  Moutere is a male clone suitable for waterway planting because it doesn't produce seeds that may disperse downstream.  Tangoio is a female, seed producing clone and is best suited to planting away from waterways, though careful management at harvest can mitigate risk of spread. Crack and grey willows should not be used.
What about trees falling or dropping branches or leaves in the waterway?
Annual harvesting ensures trees don't grow large enough to fall and block drains and harvesting before leave fall ensures the waterway isn't filled with leaf fall.
Case studies
Morgan Farm
Morgan Farm, near Morrinsville, is a highly productive (20t dm pasture/ha) farm with low N leaching (21 kg). They were looking for opportunities to achieve additional environmental gains from riparian planting and were interested in exploring the potential for riparian buffers to be productive.
They selected short rotation coppicing because the predicted benefits for water quality were impressive, and they planned to use a maize harvester to remove the annual growth as fodder.
They chose a 6-metre wide, 80-metre stretch of flat ground alongside a a permanently flowing headwater drain that feeds into a tributary of the Piako River, and separated it from pasture using a temporary fence to provide easy access for machinery later.
Planting process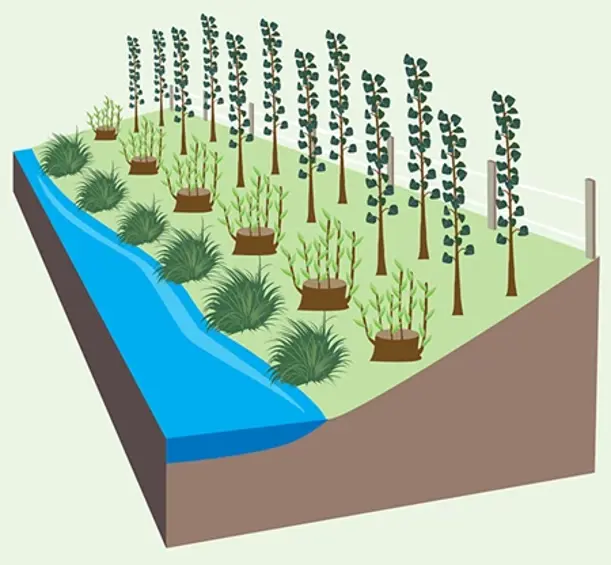 First, they mapped out a planting plan. They wanted to plant two rows of native sedges right next to the waterway, to shade the water and avoid harvesting too close to the waterway.
Then two rows of willow where the ground was wet and 6 rows of poplars, all 0.75m apart and parallel to the waterway.
Enough 3cm wands were sourced to plant 0.5-0.75m apart within the rows. The wands were supplied in 1m lengths and Wayne cut them into 50cm lengths.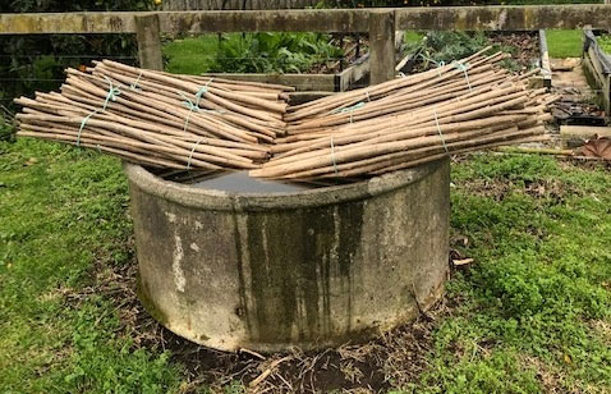 The 'wands' soaking before planting.
Wayne marked the rows with tape and pre-sprayed with glyphosate.
When the wands arrived, the bundles were stood upright in buckets of water and soil, to allow root buds to form inside. However, they were already budding when they were supplied and needed to be planted immediately. The extra soaking time, while the site was prepared, can lead to some failures later. By the time the wands were planted, many of the wands had leaves and root buds coming out, which can lead to plant failure as the root buds are fragile.
They used an auger drill bit to drill 35cm holes every 0.5m along the rows. The wands were put in the holes, wet root end down, and the soil packed around them.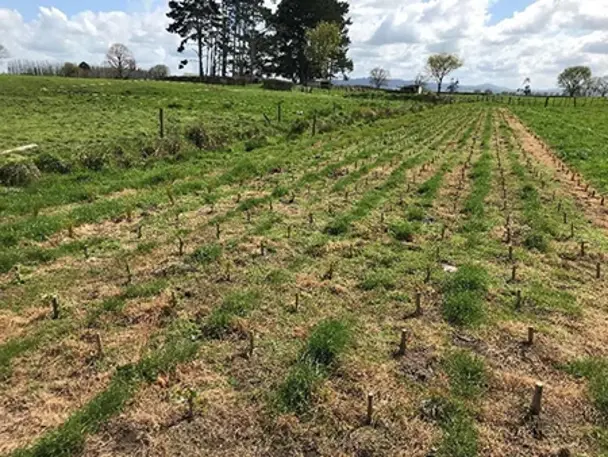 The coppice block at Morgan farm immediately after planting.
Weed control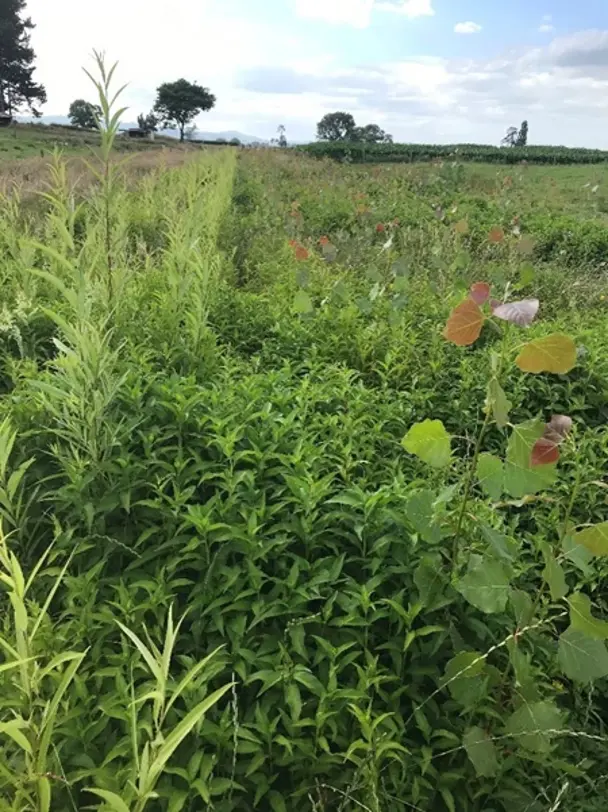 Willow weed between the poplars and willows six months after planting.
Six months after planting, it was time to control the weeds to reduce competition. This can be done by hand, weed whacker, or careful spraying. Willow weed was a challenge in the demonstration site, having filled all the space that was sprayed out. Wayne opted for a weed whacker to get on top of it – it took two people two days to finish the job. They released the hedges by hand.
Results
Establishment costs for this option are very high, though most of that cost is manual labour:
Glyphosate spray out @$91/ha.
Fencing using electric reels and standards (needed to allow harvest access) =$482/ha.
Wands 18000 wands/ha x $2 = $36,000 (or labour to harvest them)
Planting 272 hours @$50/hr = $13,600.
Releasing 222 hours @$50/hr = $11,100.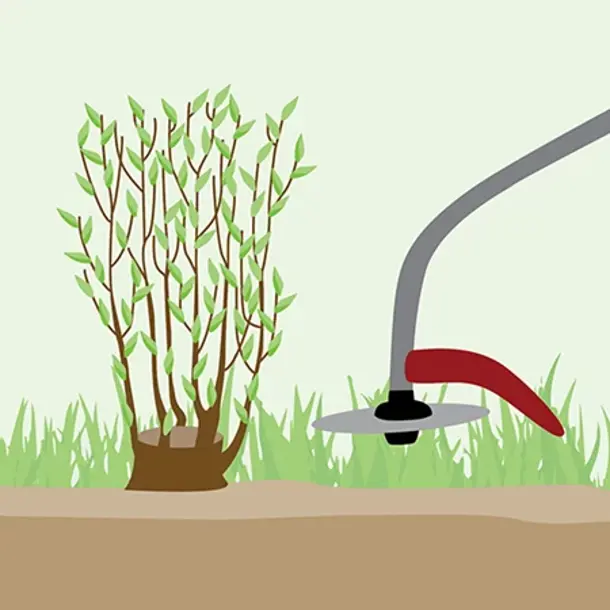 All of the willow wands grew well but about 7% of the poplar wands failed to strike or died. A loss of 5-10% is usually expected. The dead wands will be replaced with wands cut from the plants that did establish.
Once the poplars and willows got away, the willow weed was shaded out. The poplars grew 3.3m in the first year.
Harvesting and feeding
In autumn, the block was harvested and the two fodders were chipped separately to feed to the cows. Wayne had hoped to harvest the coppice block using a neighbouring farmer's maize harvester. But when it arrived, the row spacing meant they were concerned the wands were going to puncture a tyre.
Instead they experimented with a small chainsaw and with hand loppers. They decided that hand loppers were safer and easier. Mechanised harvesting remains an unresolved challenge for now.
The chipped willow and chipped poplar were put in feed bins on the feed pad. Wayne's very well fed cows were sceptical so Wayne topped the chip with some of their usual feed. The cows ate all of the chipped poplar but left the longer bits of willow stem, perhaps because they were too fibrous. Chipping the willow finer might eliminate that problem.
The harvest in the first year was significantly less than expected but Wayne expects it will be much higher next season.
Wayne minimised the use of herbicides, limiting it to pre-establishment and some spot spraying. He has noticed the sedges are starting to reduce weed growth in the water way and expects he won't need to do any more weed control on the waterway and won't be using the digger in there again.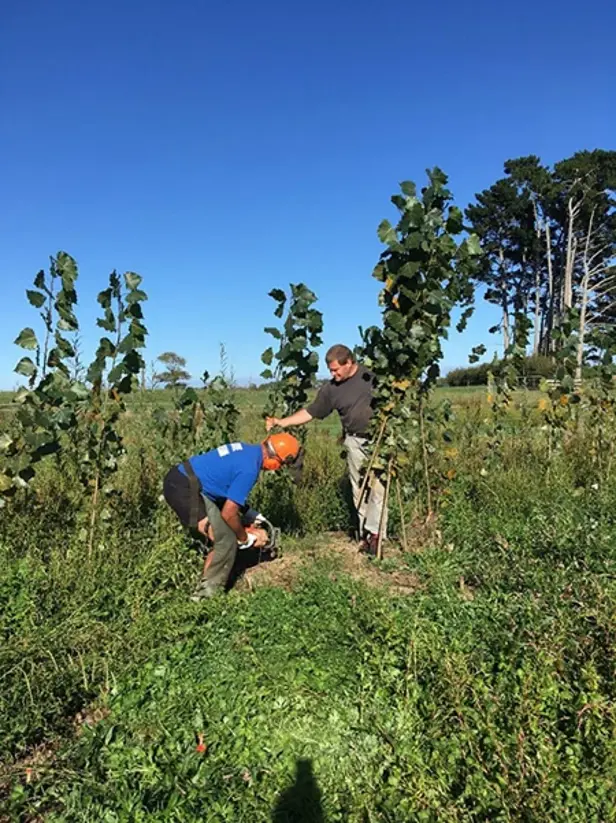 Poplar being harvested at Morgan farm.
Fawcett Farm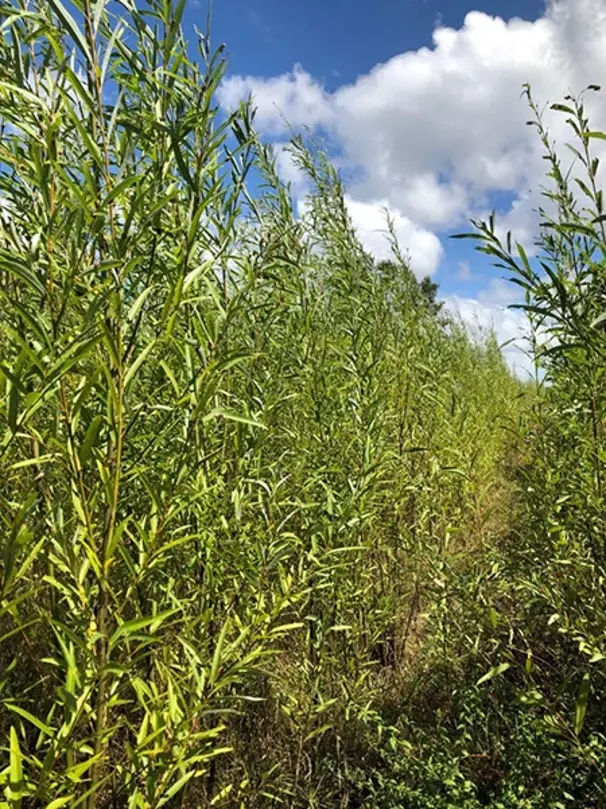 Willow prior to harvest at Fawcett farm - two years growth.
The Bruce Fawcett Ltd (BFL) family dairy farm near Walton in the Waikato already had several plots of willow established for coppicing and well-grown poplars along fence lines, prior to the productive riparian buffers project.  They got involved to support the water quality and forage quality research, because the coppice block at Morgan Farms was still establishing.
In August 2014, they had planted Tangoio willow wands in a low-lying paddock bordering the Waitoa River, which in wet years is subject to frequent and sustained flooding.  The owners hoped that planting that area with willows would help to dry it out and that coppiced willows would provide more fodder than what the area was producing as pasture.  In 2019, they planted another willow block using wands cut from the block planted in 2014 and planted a block of poplars.
Willow prior to harvest at Fawcett farm – two years growth
In the early years, the willows suffered significant damage from Giant Willow Aphid and in March 2020 the farm was an initial release site for a parasitoid wasp intended to control the giant aphid.  Even though the wasp was spreading well, the impact of the aphid was still apparent the following year, with many stems black with sooty mould, which grows on the honey dew excreted by the aphids.
Harvesting and feeding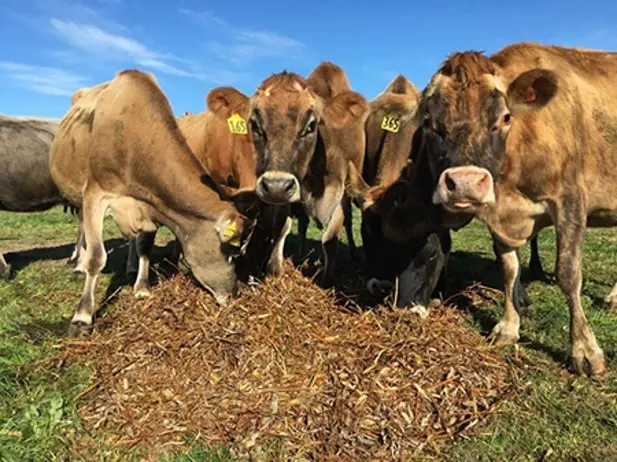 Cows eating chipped willow for the first time.
In March 2020, the growth since the original willows were coppiced in July 2019 was manually harvested. The block yielded 8.7 tonnes DM/ha, with 12% crude protein and 8.6 MJ ME/kgDM. The dry matter content was 38.6% and dry matter digestibility was 54%. Some was fed on pasture to dairy cows – they estimated 90% was eaten and observed that finer chipping could improve palatability as the cows left long bits behind.
Resources
Rewarewa for honey and timber
Suited to unmowable riparian zones, provides habitat and food, but relatively low nutrient capture.
Read more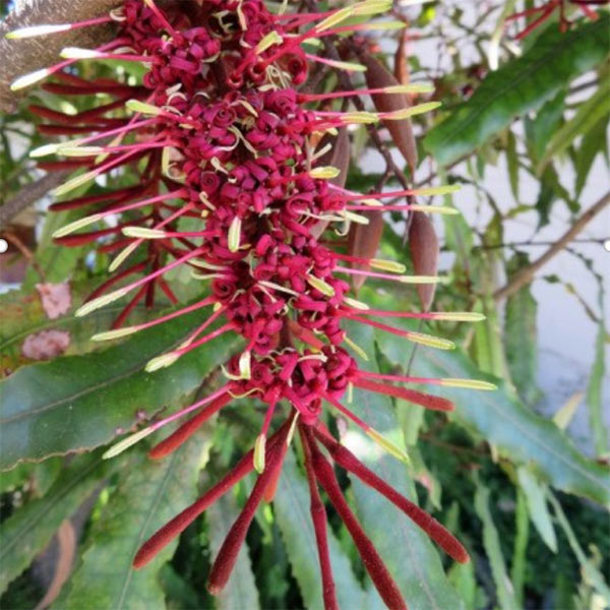 Rewarewa, or NZ honey suckle, are planted in a mix with other bee-friendly plants.
Bees love Rewarewa so there's no need for a large area as with manuka.
Five rewarewa will allow one hive to produce mono-clonal honey from October to December.
The honey harvesting can be left to commercial beekeepers and the trees harvested for beautiful timber after 60+ years.
| | |
| --- | --- |
| Establishment cost | $3223 |
| Years to first harvest | 5-8 |
| Annual profit | $475 |
| End of life value | $32200 |
| Annual environmental benefit | |
| Nitrogen removed | 30 kg/ha |
| Phosphorus removed | 7 kg/ha |
| Carbon sequestered | 8.6 t CO2/ha |
Pros
Minimal ongoing maintenance
Aesthetically appealing and increases native biodiversity
Provides habitat and food for birds and shade for fish
Suited to un-mowable buffer zones
Weeds naturally limited by canopy closure
Sequesters 8.6 tonne or more of carbon per ha per year
Cons
Rewarewa can be damaged by cold/drought in the first few years
Slow return on investment – 5-8 years until suitable for hive sites and 60 years until timber harvest
Need to get certificate/permit to evidence that trees were planted for timber
Rewarewa seedlings may be difficult to source
Case study
Tremeer Farm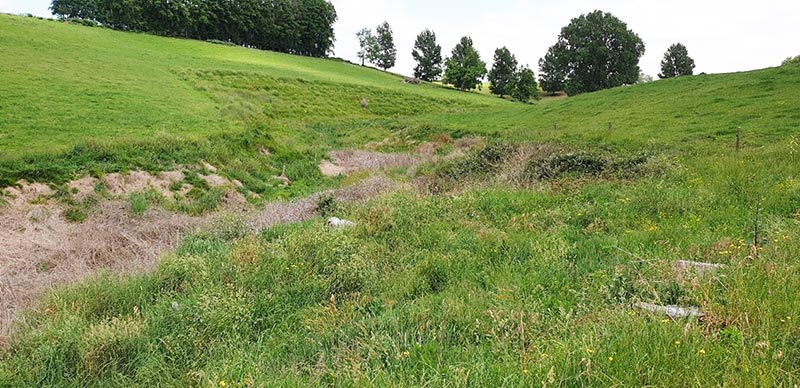 The valley before planting.
Grant Wills and Karen Preston are farmer leaders in the environmental space and won the Ballance Farm environment awards in 2013.
Their motivation for involvement in the project is a desire to continuously improve the environment, and to contribute to development of guidance for other farmers. Most of the farm's waterways are already planted, so Grant and Karen were looking for options to extend the buffers with additional planting.  When they first started fencing waterways, they didn't want to lose too much pasture, but they haven't missed it. They haven't had to clean the drains in the 20 years since they were originally fenced, so digger access isn't required.
They wanted an option that would be attractive, didn't require ongoing work and was suitable for hilly sites where use of machinery wasn't easy.  Rewarewa was an obvious choice because 'the bees do their thing and the bee-keepers do their thing – so it's quite passive on our part'.
Planting process
A bee friendly plant mix was planned with help from a local nursery and reference to regional planting guides from Trees for Bees and DairyNZ.  Along with Rewarewa, other plants in the mix were manuka, ake ake, pittosporum, lancewood, kanuka, flax, five finger, ribbonwood, and sedges for along the water's edge.
The area to be planted was sprayed with glyphosate to reduce competition with the complementary low plantings, though it could have been left in rank grass as weed control and shelter if only Rewarewa were to be planted.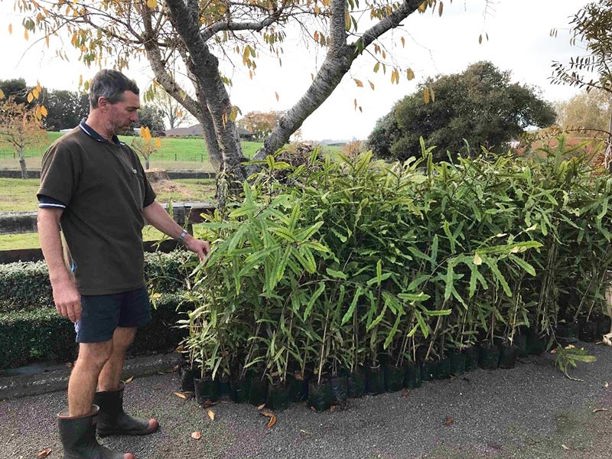 Grant with the first Rewarewa seedlings.
The rewarewa were planted first, then a local nursery was contracted to plant the other bee friendly species in between, along both sides of the waterway, in July 2019.
The plants were released in January but Grant thinks they probably should have been released a couple of months earlier because pasture/weed growing conditions had been so good.
Results
Unfortunately, severe drought took out the growing tip of many of the Rewarewa seedlings. Most of the other plants survived, indicating that Rewarewa are particularly vulnerable during establishment. They replaced the dead Rewarewa with new seedlings in August 2020 and a wetter season has meant they established well.
Although it will be a few more years before the plantings can support beehives, Grant is already pleased with what they've done and feeling confident that it will work well for the farm and the environment. Grant says he's 'hooked on Rewarewa' and they're planning to plant another 2 ha in pure Rewarewa, where they'll bring in hives just for the flowering period.
For other farmers considering Rewarewa as a riparian option, Grant recommends spreading the establishment risk over several summers, or be prepared to water them in the first summer.  Rewarewa establish easier when they have the shelter of other plants, so focussing on complementary plants the first year could be beneficial.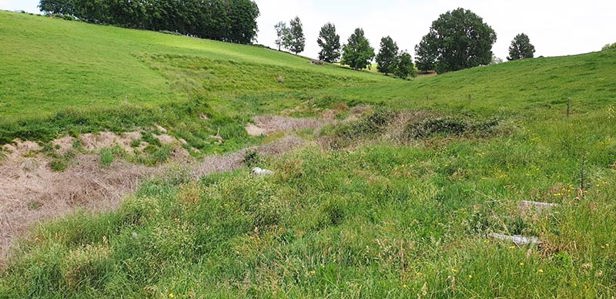 The valley two years after first planting.
Resources
In addition to the resources below, your regional council and local nursery can provide advice on species selection and sourcing plants.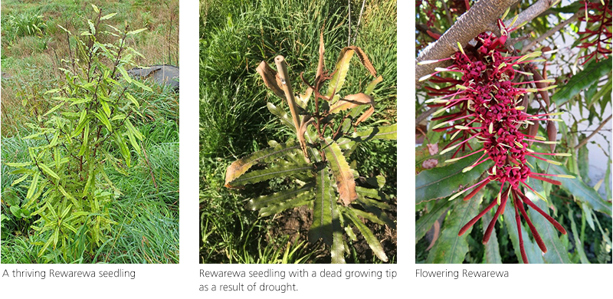 Flax for propagation and weaving
Suited to all contours, easy establishment and maintenance, but relatively low nutrient capture.
Harakeke is a familiar plant in riparian zones, well suited to extensive planting in poorly drained soils, and with very high nutrient uptake.  Can be used to produce plants for further planting and harvested for weaving and fibre.
| | |
| --- | --- |
| Establishment cost | ? |
| Years to first harvest | 1 |
| Annual profit | $0 |
| End of life value | $0 |
| Annual environmental benefit | |
| Nitrogen removed | 29 kg/ha |
| Phosphorus removed | 2.9 kg/ha |
Pros
Provides habitat and food for birds and bees.
Easy establishment and low maintenance.
Can be propagated for planting other areas or harvested for weaving.
Modest nutrient removal but low carbon sequestration
Cons
Case study
Ngawhitu Farm
Ngawhitu Farm already has a wide range of productive plantings, including poplars and totara, as well as areas of native bush.  Farm owner, Alec Jack, is passionate about achieving excellent productivity from beef and dairy, while also improving environmental and animal welfare outcomes.  The timber plantings have provided shade and shelter for his animals, and an income when payouts are low, so he has more tree planting planned.  He is always looking for opportunities to experiment to achieve positive environmental and community outcomes.
Alec had three gullies (on beef platform) that he wanted to plant, mostly to reduce erosion and sediment loss.  Flax appealed because it looks beautiful and can provide a resource for local weavers.  It wasn't necessary for this planting to provide economic benefit for the farm.
Flax for weaving
Wondering what varieties to plant, Alec put a post on facebook and people suggested he talk with a local weaving group. After discussions with them, Alec sourced several varieties that were suited to the area and useful for weaving.
Alec used white rods to mark where he wanted to put each plant, then sprayed glyphosate around each rod.  The flax were planted a week later, in winter of 2019.  Wanting a resilient, easy to manage option, Alec didn't invest in weed control after planting.  Despite that, by the following winter, more than half of the flax plants were thriving.  Radiata pines were planted along the fence line, which will be high pruned to provide shade and an additional source of income in 20-30 years.
He is planning on using the gullies as a nursery from which plants can be propagated for other areas of the farm and for weavers to harvest.
A gully planted with flax down the centre and pine along the fenceline, at Ngawhitu farm, two years after planting.
Pollarding willows and poplars for fodder
Easy to establish on any contour but relatively low nutrient capture and labour intensive harvest.
Poplar or willow poles are planted at moderate density and pruned at shoulder height every 2-3 years. The harvested plant can be fed directly to stock or chipped for addition to other feed or made into silage.
| | |
| --- | --- |
| Establishment cost | 2110 |
| Years to first harvest | 3-4 |
| Annual profit | $860 |
| End of life value | $0 |
| Annual environmental benefit | |
| Nitrogen removed | 20 kg/ha |
| Phosphorus removed | 2 kg/ha |
Pros
Provides rapid stream bank stability
Provides shade to support aquatic life, and temporary habitat for birds
Can produce poles for planting elsewhere on farm
Suited to unmowable buffer zones (though that would require manual harvest)
Allows for a flexible buffer width as there is no need for mower access
Flexibility in harvesting – 1-3 years
Provides a reserve of fodder in drought
Cons
Harvest is labour intensive
Limited nutrient removal and low carbon sequestration
Low quality fodder
Not suitable for areas with tile drains
Establishment and management process
Spray for weeds
Drill/ram holes and ram poles in
Spray/manual weeding
Mechanical or manual harvest 3-4 years after planting, and then every 1-2 years
Can be chipped and ensiled with maize silage or fed directly to stock. If fed in branch form, branches will need to be picked up afterward.
The most suitable species or clone for a specific riparian site will depend on climate, soil moisture, and risk of diseases and pests.  Poplar generally do not like wet feet so may be best suited to drier riparian zones.  Willow are better suited for wet/swampy zones.  Your regional council can provide advice on species selection and sourcing poles.
Wide spacing allows longer rotations and increased flexibility as to time of harvest. High density planting (close spacing) suppresses weed growth and facilitates ease of harvesting on an annual or biennial basis. This option requires careful site selection and management to ensure tree roots do not block drains and branches do not fall into a stream.