Farmer tip
Comfortable lying surface
Cow comfort during winter is vital for maintaining their well-being and condition. This page emphasises the importance of lying down for cows, which provides rest, sleep, and reduces lameness risk, leading to better welfare. A minimum of eight hours of lying time daily is essential, and cows will adapt their lying times based on weather. Tips to provide a comfortable lying surface include moving fences for fresh ground, strategic grazing, protecting areas near feeding, using drier areas, managing space during wet conditions, and specific practices for younger or lighter cows. These insights can help you care for your cows effectively during winter.

Cow comfort in winter is crucial for animals to maintain condition and well-being. There are many factors to consider that can have an impact how your cows experience winter.
Lying down is very important to cows. It provides rest, opportunity to sleep, and reduces the risk of lameness, which leads to better animal welfare.
Lying time in a grazed system is dependent on weather and ground conditions.
The welfare code requires a minimum of eight hours of lying time per day. In an outdoor system, short periods (less than 24 hours) of some disruption to lying times are normal.
Cows will compensate for shorter lying times during bad weather by increasing their lying time when the weather and ground conditions improve.
If critical source areas (CSAs) are well managed and the soil type is suitable for wintering, cows will experience the majority of their winter with a suitable lying area.

As show in a trial completed at the Southern Dairy Hub in 2020, cow lying time is negatively impacted by rainfall events.
Farmer tip
"I know my cows are getting enough time resting if most of the cows are lying down when I check them in the afternoon, or if I can see lots of hollows where they have been lying."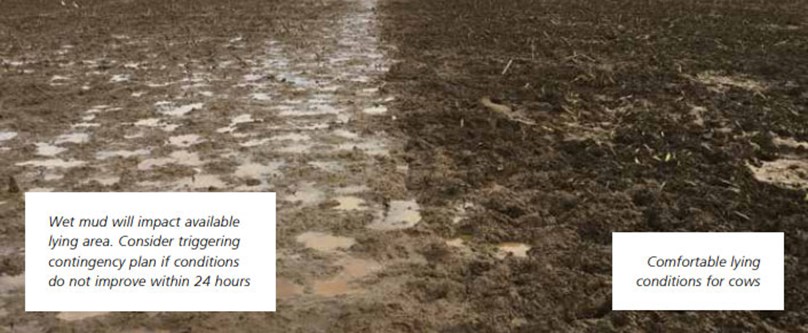 Providing a comfortable lying surface
Here are a few suggestions for how you can do this:
Move the break fence regularly to provide fresh ground, as long as it does not result in the overallocation of crops and create potential nutritional risks.
Strategically graze the paddock, avoiding wet areas.
Protect the area closest to the feeding face by grazing animals into the prevailing weather conditions.
Save drier areas, especially any with shelter, for your contingency plan.
During wet conditions allow cows more space by giving access to the ground behind the back fence if that ground is suitable for lying.
Keep supplement feed and water troughs near the feeding face, not in any swales or hollows, which may create excess mud.
Roll out hay or straw for cows to lie down on.
If you have limited options, put cows that will be most affected by a period of poor weather (younger, lighter, earlier calvers) into paddocks with the most shelter, best soil condition, or best feed.
Look for lying 'bowls' or 'moulds'
1 / 2 images
Look for lying 'bowls' or 'moulds'
2 / 2 images