COVID-19 updates for farmers
If COVID-19 appears
10 Farming tips for COVID-19
Milking during COVID-19
Cleaning surfaces
How to manage and support
COVID-19 has had a major impact on the world and here in New Zealand. DairyNZ has developed advice, tools and resources to support dairy farmers and their teams to farm safely through the pandemic. Here you will find the necessary information on health and safety, preparation and support for you and your team.
COVID-19 updates for farmers
As of 11.59pm, Monday 12 September 2022, the COVID-19 Protection Framework, or traffic light system, has ended.
This means most COVID-19 rules will end, but you will still need to isolate for 7 days if you have COVID-19.
There is no requirement to wear a face mask if you are attending a DairyNZ event.
For any questions
If you need help now, phone Rural Support Trust on 0800 787 254.
Common questions and answers
Bubble of one
What is a bubble of one?
If you are a household contact and are a critical worker and either work alone, or are able to work alone, you will be able to continue working in a 'bubble of one' but must return home to isolation once finished work.
Getting RAT supplies
How easy is it to get hold of RAT's?
RAT's are now available in pharmacies, supermarkets and other large retail outlets. If you have registered as a critical worker and are a household contact, you can order government supplies here.
COVID-19 on farm
What are the symptoms of COVID-19?
Common symptoms of COVID-19 are like those found with illnesses such as a cold or influenza. You may have one or more of the following:
new or worsening cough
sneezing and runny nose
fever
temporary loss of smell or altered sense of taste
sore throat
shortness of breath
What are the repercussions if me or my staff are asymptomatic and just keep working?
It is important to discuss with your milk company if anyone is milking that is Covid positive.
What if all of us get COVID?
Planning for this possibility is important and developing a business continuity plan will help reduce the risk and anxiety if this eventuates.
If you have exhausted all channels, then contact:
DairyNZ: 0800 4 324 7969 or
Rural Support Trust: 0800 787 254
Isolation
Who are my key contacts during COVID-19
Your milk company
DairyNZ: [0800 4 324 7969](tel:0800%204 324 7969)
Rural Support Trust: [0800 787 254](tel:0800%20787 254)
Ministry of Health
Do you have some simple tips and tricks?
Think how you can protect your business:
Booster vaccinations
Business continuity plans
Plan for supply chain disruption
Communicate early with your agent or meat works
Feed plan to manage a disruption
Order early eg vet meds, feed and fert
Register for the close contact exemption scheme
Develop a plan for if you need to isolate or become really sick.
Some additional tips for farming during the pandemic.
What do I do if there are delays getting stock off farm?
Plan for supply chain disruption:
Communicate early with your agent or meat works
Feed plan to manage a disruption, contact DairyNZ for assistance.
Preparation
What is a business continuity plan?
A business continuity plan (BCP) will help you prepare and continue to operate during an unplanned disruption in service. It identifies the critical activities and plans to minimise the disruption. It is also relevant for other adverse events e.g. floods, droughts, disease outbreaks.
Who can help me with a Business Continuity Plan (BCP)?
There is help in the Business section of the website, or
Call the DairyNZ helpline on 0800 4 324 7969, Monday to Friday, 7am to 4.30pm
Watch our DairyNZ webinar
What do I do if there is an adverse event, e.g. fire, flood?
Human safety and life preservation take precedent over isolation. Make sure you stay as safe as possible.
Where do I find a Business Continuity Plan (BCP)?
DairyNZ have a few templates and examples here.
COVID-19 keywords
Household contact: You are a Household Contact if you live with someone who has tested positive for COVID-19.
Close contact: You are a close contact if you have had contact with a person with COVID-19 when they were infectious. Read more about the situations that would make you a close contact.
What is a RAT or Rapid Antigen Test? Rapid antigen tests (often referred to as RATs) are screening tests for COVID-19 that can provide a result quickly.
They work best when there is a lot of the virus present. They can be less accurate than a PCR test. More details of Rapid Antigen Testing (RAT).
PCR test: PCR means polymerase chain reaction. The test detects the presence of a virus if you have the virus at the time of the test. The test could also detect fragments of the virus even after you are no longer infected.
Long  COVID: The term 'long Covid' is used to describe signs and symptoms that continue or develop after acute COVID-19 (4 weeks from the initial infection). Most people who get COVID-19 recover completely. However, some people report a range of symptoms beyond the standard time of recovery.
Financial support
My income has been affected. Is there any help?
If your income has been affected by COVID-19, you may be able to apply for financial support. Check out the government website, this information changes regularly.
Supporting your farm team
In this time of uncertainty, it's a good idea to check in frequently with your team and understand the questions they have about the effects of COVID-19 and its potential impact on your farm.
For any support or questions, you can get in touch with your local DairyNZ team
How are you set up as things evolve?
Don't forget about your networks of farming friends and family - it might be useful to check in virtually around how you might support each other. Keep up to date with developments and advice from the Ministry of Health. It is worth having a think about how your business will deal with different scenarios.
Please look after yourselves and your families and once again, we are in this together.
If COVID-19 appears on your farm
With the gradual opening of boundaries around New Zealand, cases of COVID-19 are increasing on dairy farms.
We encourage farmers to prepare themselves for cases on farm using our Business Continuity Plan templates, which will put a plan in place to ensure operations continue without significant setbacks.
While preparation is key in reducing the impact that COVID-19 can have on farm operations, it is important that farmers know the steps to take once they identify a positive case on farm.
Process map for a positive COVID-19 case on a dairy farm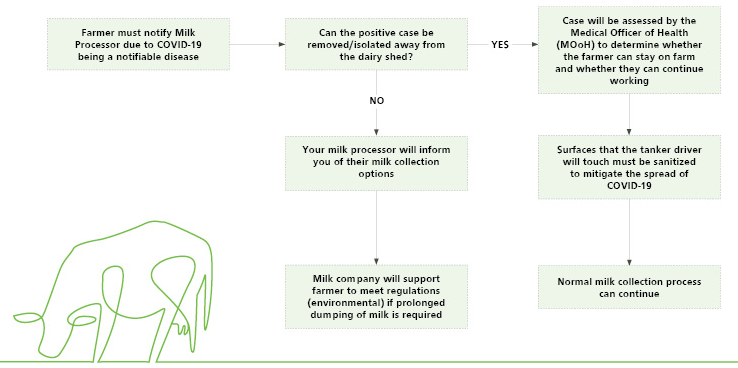 COVID-19 is not a food safety concern.  There is general consensus that the risk of COVID-19 transmission by food or food packaging is negligible.  Nonetheless, dairy companies do need farmer support to manage Health and Safety considerations for tanker drivers, and to ensure ongoing compliance with other relevant regulations, where there are COVID-19 positive cases on farm.
It is important that farmers can plan ahead for the next 14-21 days upon finding a positive COVID-19 case on farm. We encourage you to use the below Checklist for when COVID-19** is on farm to ensure operations continue as normal.
The detail contained in your plan is unique to your own property and circumstances to allow family, friends or neighbours to come in and tend to the immediate needs of your livestock.
This webinar covers what to consider if someone on farm has COVID-19 and how you can plan to minimise the risk to your business.
Video 44:03 min
Summary
If you, a member of your family, or a staff member tests positive for COVID-19, or is a household contact of a confirmed case, you should follow the advice of the Ministry of Health.
If you are a COVID-19 positive case, you'll receive instructions and advice directly from a public health official which is specific to your individual situation and according to your needs.
Further guidance for workplaces that have a case of COVID-19.
Information on self-isolation and quarantine on-farm.
Contact your dairy company  so that appropriate control measures are put in place, and to manage the risk to tanker drivers and others.
immediately
This means the unwell person is likely to be on sick leave, but other options are available. It is possible you may be able to access a wage subsidy to assist with this. Read more about these options.
You are able to talk to other staff members about the positive test result but avoid discrimination. Find out more about your obligations. For any employment questions, visit Federated Farmers.
If the person unwell is self-isolating ensure support is available, for example, that they have enough food, fluids, and any medication they may need. Visitors should not go to the house, but it is okay for friends, family, whānau or delivery drivers to drop off food and supplies at the door.
Keep checking in, by telephone, on any staff member who is self-isolating about both their physical and mental health.
How to protect other people on-farm
Household contacts are required to self-isolate, i.e.everybody the unwell person lives with must stay at home unless they have applied for the close contact exemption scheme.
You are able to talk to other staff members about the positive test result but no discrimination is allowed. Find out more about your obligations. For any employment questions, visit Federated Farmers.
10 Farming tips for COVID-19
1. Practice good personal hygiene
Sneeze into elbow.
Wash hands often (for at least 20 seconds).
Stay at least 2 metres apart from people not in your family unit.

This includes smoko! Try to have smoko outside, not in the shed or staff rooms if possible and if you must, make sure chairs are two metres apart.

Clean and disinfect frequently-touched surfaces and objects (e.g. door handles, steering wheels):

Keep a container of teat wipes in lots of different locations (e.g. in the tractor and utes) and encourage people to use them - not just to wipe their hands, but to clean their phones and other surfaces often.
Wipe the wheel and stick shift down before and after you use them. Tractor cabs especially are little incubators! Keep the windows of all vehicles open if possible.
Wear gloves during milking. Ensure that you remove gloves when leaving the dairy to go home or to other areas of the farm. After you remove your gloves, wash your hands thoroughly with soap and warm water.
If possible one vehicle per person. If not possible then gloves in the vehicle (e.g. tractor) and wipe down steering wheel and controls before leaving.
Use technology rather than meeting in person, e.g. WhatsApp, Viber, Messenger, Facetime, Skype etc.

If anyone feels unwell, they need to stay at home, or work as a bubble of one.
Stay in your "bubble" if the country is in lockdown.
2. Wear a face covering
Under the Red setting, as part of the COVID-19 Protection Framework (traffic light system), you don't have to wear a face mask outside. See covid19.govt.nz.
Because farms can still operate at Red, it is no longer mandatory when a contractor or external service provider comes on farm to work with you, that the hosts and contractors are wearing face coverings if they are outside.
You should also wear a face covering:
inside any businesses and services operating that involve customer contact, including supermarkets, supply stores, pharmacies, petrol stations, and any other farms.
when visiting healthcare facilities
on public transport, on flights and in taxis
4. Communicate with your staff
In this time of uncertainty, it's a good idea to check in frequently with your team and understand the questions they have about the effects of COVID-19 and its potential impact on your farm.
Keep communicating regularly about what the team needs to do to keep those hygiene practices up.
Make a set of COVID-19 rules for all people on farm. Agree them. Stick to them. Print them out where staff will see them.
5. Dairy farming is an essential business
Under the COVID-19 Protection Framework, staff are able to continue working whether people live on-farm or off-farm. The exceptions to this are if people have tested positive to COVID-19, or are required to be in self-isolation.
When you and your staff travel to and from work, ensure you carry the following at all times:
Identification (e.g. Drivers Licence).
Find out more about working under the COVID-19 Protection Framework here.
6. Review your list of jobs to be done
Consider whether jobs need to be done during each setting under the COVID-19 Protection Framework, or if they can be postponed. Some services will still be available.
7. Connecting with your main suppliers/contractors
Check with the supplier prior to ensure everything is done within the COVID restrictions.
8. Do what rural communities do best – look after each other
Check in on older relatives or vulnerable people over the phone, to make sure they have everything they need.
Talking to friends, whānau and neighbours over the phone to see how they are and if they need support.
Drop off essential supplies, like food, to those that can't or won't leave home. You can leave them at the door.
9. Think through scenarios if COVID-19 restrictions change
How will you look after the wellbeing of yourself and the team, while keeping up with the demands on farm?
Reach out to DairyNZ or your other key partners if you need any support or advice.
10. If transporting calves for direct sale
If you are selling spring-born calves directly to another farmer to rear, you must adhere to safe hygiene practices and social distancing rules. If possible prepare the calves for transport and leave them in a designated collection pen. Remember to wipe down any surfaces the person collecting the calves may have touched.
Milking during COVID-19
Keep yourself and your employees safe at milking during COVID-19 with the following tips.
We know from medical professionals that Covid-19 stays on surfaces for at least 72 hours and is transferred via droplets. This means that we have to be extra vigilant with the hygiene of our shared work surfaces, and that we must maintain a distance of two metres from others to minimise its spread.
Traditionally, and especially in our herringbone milking platforms, we worked closely together and with no disinfection of our surfaces. To keep everyone safe, we now need to make changes to how we milk.
What can you do to help keep your employees and yourself safe?
Tips for working together while milking
Herringbones options

Where possible milk with one person in the pit
When two or more people are required to milk, set up the dairy with a set section for each milker, i.e. in a 40 aside one person milks cups 1-20 the other 21-40 and milkers keep 2 metres apart. Although bunny-hopping is the most efficient milking method in a herringbone, this won't achieve the distancing needed.

Rotary options

Where possible milk with only one person at cups on
Some larger rotaries require two people for cups on and if this needs to be maintained then the milkers must always stand two metres apart
Where rotaries have two people present for herd change overs, or one person at cups off, then it is essential that staff always keep two metres apart

General requirements

Wearing gloves during milking should be compulsory at this time. Ensure that you remove gloves once you are leaving the dairy to go home or to other areas of the farm
After you remove your gloves, wash your hands thoroughly with soap and warm water
If two-metre physical distancing can't be achieved because you want to still do the bunny-hopping routine in a herringbone, or have two people cupping closer than two metres in a rotary, then staff should wear masks
Communication to your team
Tell your team about the importance of hygiene when touching surfaces and coughing into their elbow
A "gloves on" rule is a good place to start, but also you should reiterate to your team that you all need to refrain from touching your faces (even when wearing gloves) and ensure thorough hand washing happens after gloves have been removed
Consider allocating ownership of kitchen items (knife, fork, cups etc.) or get staff to bring their own utensils
Rostering tips
When doing your rostering, try and minimise how many staff are in contact with one another
If possible, consider having the same groups of staff working in shifts together over the four weeks to reduce the social contact points
If your team size does not allow for this, consider ways that you can split tasks or stagger staff breaks to minimise contact
Cleaning surfaces during COVID-19
Keep yourself and your employees safe around the farm during COVID-19 with the following tips for cleaning surfaces.
The virus that causes COVID-19, can survive on surfaces for a limited time, however the virus has a fragile outer membrane making it easy to 'kill' through effective cleaning and disinfection. The length of time virus can survive on surfaces depends on the type of surface exposed, temperature, humidity and the amount of virus released onto a surface. Focus especially on areas that are "touched often" such as handles, rails and switches.
Any cleaning products used in the farm dairy must continue to conform with existing requirements under your dairy company's Terms and Conditions of supply.
The main route of transmission of COVID-19 occurs through close contact with an infected person when they cough or sneeze. It is also possible, but less likely, that infection can occur if someone touches a contaminated object or surface, then touches their mouth, nose, or eyes.
To reduce the risk of transmission:
Get vaccinated
Remain home if sick and arrange to get a covid test
Cover coughs and sneezes
Wash or sanitise hands regularly throughout the day.
Wear gloves for milking
What can we use to clean and sanitise surfaces in the farm dairy?
Every farm dairy has a ready supply of detergents and disinfection materials that can be used to clean and sanitise surfaces against microbes, including bacteria and viruses.
Your normal wash regime will protect your milk contact surfaces.
Note: this is our best interpretation of the information available to date. We are currently seeking confirmation from government that this advice still holds and will update as new information becomes available.
The tables below summarise different products that can be used to sanitise different surfaces.  They have been split into surfaces in the FARM DAIRY, and other surfaces AROUND THE FARM.
Note: that all chemicals used in the dairy must be MPI-approved Dairy Maintenance Compounds.
IN THE FARM DAIRY
Material
What to use
Mode of action
Hands

Soap and water. Wash hands regularly

e.g. after removing gloves, when arriving

home etc.

Soap interferes with the fats 

in the virus shell, lifting it

from a surface, and it is then

rinsed off by water.

Robust or hard

materials e.g.

clusters,

rubberware,

railings, gate

latches.

Acid detergent solution Reserve the

recycled acid hot wash after washing

the plant. Use it to scrub or wipe down

rails, pipework, gates and latches where

people regularly touch. Ensure gloves

are worn.

Acid detergents contain 

inorganic acids, e.g.

phosphoric or sulphuric acid,

or organic acids, e.g. lactic

acid, citric acid etc. All are

effective at destroying

undesirable organisms,

including viruses on surfaces.

Walls and Floors

Use products registered for sanitising

walls and floors in the dairy and follow

the label instructions. Dilutions of 100 -

200 ppm hypochlorite solution (chlorine)

and 2 minutes contact time are sufficient

to kill the virus. NOTE: Too high a

concentration can be corrosive.

Appropriate PPE should be worn i.e.

masks, gloves etc.

NOTE: chlorine-based

cleaning products are also

highly toxic to bovine semen.

Avoid using chlorine-based

products on floors and walls

on days when AB is to occur.

Contact your AB provider for

more information.
AROUND THE FARM
Material
What to use
Mode of action
Hands

Soap and water. Wash hands and dry

hands regularly or use and alcohol based

hand sanitiser containing at least 60%

alcohol (use enough product to ensure all

parts of your hands are covered, rub in

until hands dry.

Soap interferes with the

fats in the virus shell, lifting

it from a surface, and it is

then rinsed off by water.

Work clothes &

overalls

Laundry detergent and warm/hot water.

Wash work overalls as normal. Wash

daily, if possible.

All detergents are active

against bacteria, most

moulds, yeasts and 

viruses.

Electronics, soft

materials e.g. touch

screens, phone

cases, motorbike

handles, steering

wheels etc.  

70% alcohol-based wipes e.g.

antibacterial hand wipes*, teat wipes.  

Use to wipe down surfaces and allow to

air-dry. Discard wipes that have dried out,

as they are no longer active.

Ethanol can kill viruses

within 30 seconds, by

destroying the proteins and

RNA (genetic material).

Best results when ethanol

is at a 70% concentration.

Plastics, delicate

materials e.g. light

switches, control

buttons, door handles,

fridge handle, toilet

flush button, etc.

Dilute hypochlorite solution Make up a

dilute mix e.g. 100 to 200 ppm chlorine or

0.01% to 0.02% active chlorine in a spray

bottle. Spray on a cloth to wipe down

frequently touched surfaces. (NB This is

equivalent to a product with 140g/L

Chlorine. Add 1.5mL solution per 1L of

water to give a chlorine level of 200ppm)

Hypochlorite is particularly

effective against viruses,

by destroying the protein

and RNA.
*Note that some household products, and animal housing sanitisers contain compounds such as quaternary alkyl ammonium compounds (QACs) or Nonylphenol Ethoxylates (NPEs). These cannot be used on milk contact services, and therefore are not approved for use in the farm dairy.
Commonly shared or high use touchpoints
Examples include:
Door handles and light switches
Vat control pad, connection points, outlet taps, hose taps, agitator switch
Vacuum pump switch
Wash system controls
Filter cage
Pens and writing surfaces
Shared milking aprons, sleeves, glove boxes
Gates, latches and handrails
Milk tubes, clusters, teat disinfection equipment
Taps and hoses
Cupboard and fridge handles
Vehicle door handles, keys, steering wheels / handlebars
Remember to practice good hand hygiene (wash or sanitise your hands regularly)
In summary:
Cleaning a surface first is an essential part of disinfection, as organic matter (dirt, faeces etc) can inactivate most disinfectants.
Only use products for Farm Dairy cleaning which are normally used in the Farm Dairy, in accordance with MPI regulatory requirements.
Soap and water should be used for hand hygiene when hands are visibly soiled. Alcohol-based hand rub or soap and water can be used when hands are visibly clean but have been contaminated from contact with environmental surfaces
Personal protective equipment should be worn as recommended by the manufacturer's recommendations.
Gloves (disposable or reusable) should be worn when undertaking cleaning tasks
Most milk processors have requirements that Quaternary Ammonium Compounds (QACs) (e.g. benzalkonium chloride) and Nonylphenol Ethoxylates (NPEs) cannot be used on milk contact surfaces. These compounds are often found in household "spray and wipes", surface wipes, household bleach and animal housing disinfectants, which are not approved for use in the farm dairy.
If you are unsure about a particular product, check MPI's dairy maintenance compounds register online or contact your milk processor/factory field representative.
How to manage and support your team
We suggest you think about what you would do and how you will manage COVID-19 before you need to, as part of your business continuity planning.
It might be useful to talk through with your networks of farming colleagues, neighbours and friends about how you might support each other in different scenarios.
The Ministry for Primary Industries has advised that if a business is found to have a case, then isolation and COVID-19 health requirements for people could affect business operations.
Key management considerations
Getting vaccinated for COVID-19
As part of your COVID-19 response we encourage you to get you and your teams vaccinated. A handy website to see appointment availability is here.
How to protect your milking operation and animals
Protecting yourself and others on-farm
For more info