Improving outcomes for animals and people
Contact the Early Response Service
The Early Response Service (ERS) from DairyNZ is a confidential resource available for farmers facing challenges with their livestock's wellbeing. This service operates nationwide and provides practical, realistic solutions to a range of situations, whether that's misjudgements or genuine animal welfare issues. Following a thorough assessment, ERS helps you create an action plan with clear steps for immediate and future action.  You can contact ERS freely and confidentially if you have any concerns.
DairyNZ's Early Response Service is available to support farmers whenever concerns are raised about the wellbeing of livestock.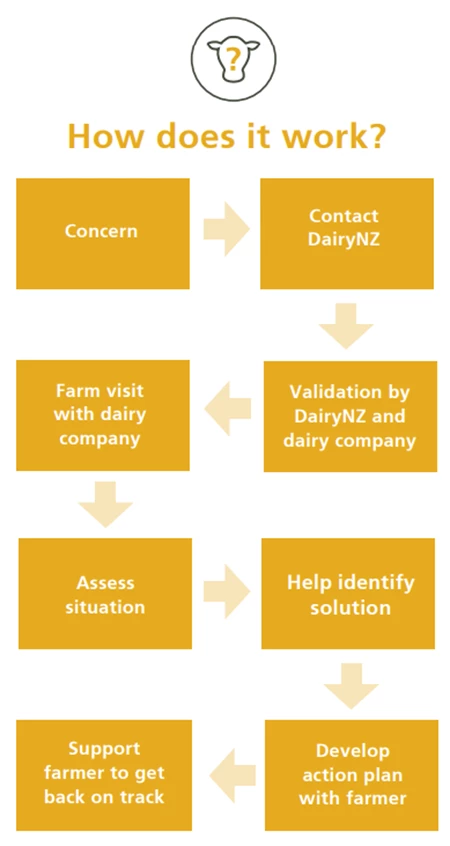 Improving outcomes for animals and people
The confidential Early Response Service (ERS) has been successful in helping farmers manage their animals when the going gets tough. It operates nationwide with regionally-based DairyNZ staff supported by dairy companies.
The service is used for different reasons. For example, someone driving by may think cows don't have enough to eat or notice the break fence hasn't been moved, or rural professionals such as vets and neighbours may have concerns about animal welfare.
All calls to our freephone remain confidential. When a call is received, we go through a detailed process with a dairy company colleague to assess the situation across the board and to offer realistic solutions. Some calls are misjudgements, but we always visit the farm, and check the welfare of the animals as well as the wellbeing of the farmer.
If there is a genuine issue, we assess risks and write an action plan for the farmer. This outlines practical steps showing what can be done today, this week and next week. We return to make sure the actions are being followed up, and we advise the dairy company when the case can be closed. In the event that all parties involved feel the case needs escalating to MPI, the relevant dairy company makes the decision to contact the Ministry for Primary Industries.
Contact the Early Response Service
If you have concerns phone our free, confidential number: 0800 4 324 7969
Tags related to
"Early Response Service"