Strategic grazing near waterways and good management of Critical Source Areas (CSAs) can help reduce sediment and phosphorus loss by up to 90%. When planning your paddock, think about the cows' comfort, such as providing shelter and grazing direction. Use buffer zones around CSAs to filter runoff. Remember, the faster the water flow, the wider the buffer zone should be. Plan your crop early to save time and ensure a smooth transition for your cows onto the crop. Always consider risk factors when planning your grazing, and take note of new national regulations for maintaining vegetation cover.

Strategic grazing near waterways and careful management of Critical Source Areas (CSAs) can reduce losses of sediment and phosphorus from the paddock by 80-90%.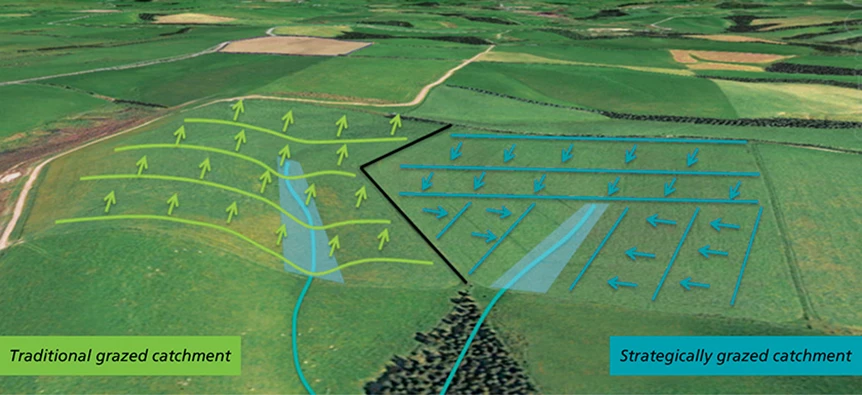 Strategic grazing of CSAs - arrows show the direction of grazing. The CSA is shaded in blue.
When setting up your paddock strategically it is important to consider the animals. Can you leave breaks near hedges that would provide shelter in wet weather? Will the direction of grazing provide any drier areas for lying? Animals find it difficult and uncomfortable to graze downhill. Consider grazing the animals across the slope with a large buffer at the bottom of the slope.
Buffer zones or grass strips in and around CSAs and next to waterways act as filters by slowing overland flow to trap suspended contaminants. Where possible, graze the paddock towards the CSA leaving an ungrazed buffer to filter runoff. If this is not possible, leave a buffer around the CSA and graze this buffer last in fine weather. The faster the water is flowing into a buffer zone (ie. The greater the slope of the paddock), the wider the buffer zone will need to be to provide time for effective filtering and infiltration.
Setting up the crop early will save you valuable time over winter. Get together with your farm team in early Autumn while ground conditions are good and use your paddock plan to set the winter paddock up. Take time to consider how you will transition your cows onto crop while you are planning how you set up your paddock. Perhaps you could put extra baleage in the transition breaks
Get together with the team and use the paddock plan to create a grazing plan, including your contingency plan strategy. Consider the risk factors identified during paddock selection.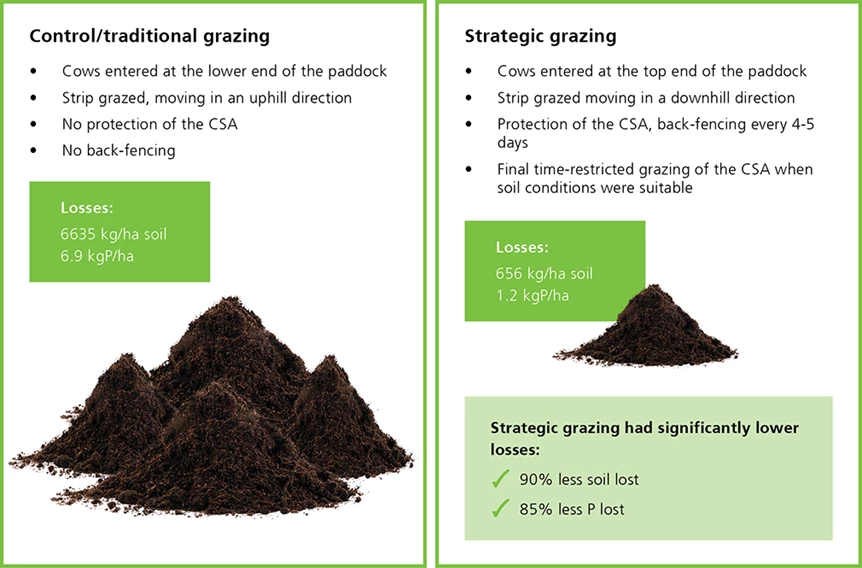 Since this research was conducted, national regulations have changed. National wintering rules now require vegetation cover to be maintained between 1 May and 30 September in the same year. If you chose to plant crop in critical source areas, please ensure it is not grazed until after 30 September. Ideally, it is recommended that these features do not have crop established in them and stock are temporarily excluded while in the paddock.