Farm profile (2019-20)
Changes relative to 2019-20
Doug and Emma McLeod are sharemilkers in South Otago, supplying milk to Danone. Their farm, next to the Pomahaka River, has details like a 161ha milking platform and winters 480 cows. They utilise turnips as summer feed and kale for late calvers. Changes to their farm system have been modelling against impacts on nitrogen surplus, nitrogen leaching, methane emissions, and operating profits.
Doug and Emma McLeod are 50:50 sharemilkers on flat to rolling land next to the Pomahaka River in South Otago. They supply milk to Danone.
Up to 160 kg N/ha has typically been applied to pasture each year and effluent application is via a pod system. A direct drilled kale crop to bring late calving cows back onto in the spring follows the summer turnips.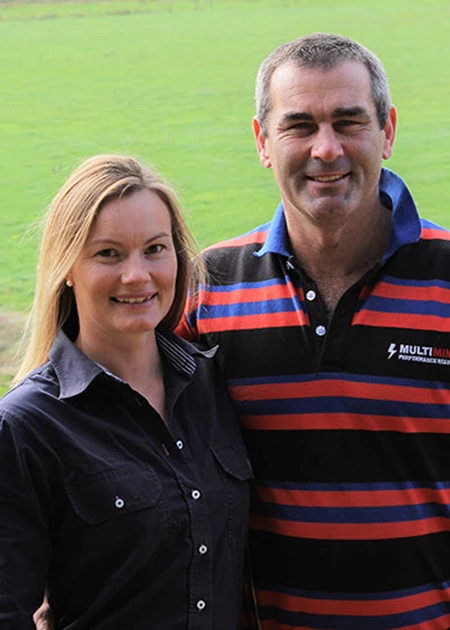 Farm profile (2019-20)
Milking platform effective area:
161ha
Support block effective area:
Nil, utilise grazier
Operational structure:
50:50 sharemilkers
Infrastructure:
36-a-side herringbone, no in-shed feeding
Planned start of calving:
5 August
Stocking rate:
2.8 cows/ha
Production:
1,067 kg MS/ha; 375 kg MS/cow
Soil type:
Brown, Pallic; 92.5% poor or imperfectly drained, 7.5% well or moderately well drained
Feed supplements:
Turnips as summer feed, 407kg DM/cow supplements: pasture silage/baleage, lucerne baleage, hay, straw
Fertiliser inputs:
127kg N/ha; 31kg P/ha
Purchased N surplus:
87kg N/ha (Overseer FM v6.4.0)
Predicted N leaching:
27kg N/ha (Overseer FM v6.4.0)
Wintering system:
Winter off farm on kale (11kg DM/cow/day) and pasture silage (4kg DM/cow/day)
Wintering system (for late calvers):
a paddock of kale on-farm
Changes relative to the 2019-20 base farm system
Scenario
Purchased N-surplus
(Kg N/ha)
N leaching loss
(Kg N/ha)
P loss
(Kg P/ha)
Methane
(Kg CO2e/ha)
N2O kg/ha
(kg CO2e/ha)
HWEN GHG
reporting
(kg CO2e/ha)
Operating profit
($/effective MP ha)
Baleage wintering:

Half the herd wintered on milking platform on baleage (11 kg DM/cow/day plus 1 kg DM/cow/day pasture), stand-off structure for 240 cows to stand off for 12 hours/day during winter and for adverse weather conditions during autumn. Remaining cows wintered off-farm on kale, retain 2.7 ha kale on platform for late calvers.

+10% ↑
-6% ↓
-2% ↓
+6% ↑
+2% ↑
+5% ↑
-16% ↓
Fodder beet wintering:

Half the herd wintered on the milking platform on fodder beet (10 kg DM/cow/day fodder beet, 3 kg DM/cow/day baleage), stand-off structure for 240 cows to stand off for 12 hours/day during winter and for adverse weather conditions during autumn. Remaining cows wintered off-farm on fodder beet.

+15% ↑
-12% ↓
-6% ↓
+12% ↑
-0.4% ↓
+9% ↑
-10% ↓
Autumn fodder beet:

5.7 ha of fodder beet grown on milking platform for autumn and to return to after winter. Purchased pasture silage for autumn is reduced. Cropped land remains bare until regrassed in November.

-14% ↓
-2% ↓
-1% ↓
-0.4% ↓
-2% ↓
-1% ↓
+3% ↑
Autumn fodder beet with oat catch crop:

5.7 ha of fodder beet grown on milking platform for autumn and to return to after winter. Purchased pasture silage for autumn is reduced. An oat catch crop is planted in June to the area of autumn grazed fodder beet and is harvested for silage in October and used as dry cow feed.

-16% ↓
-6% ↓
-1% ↓
-2% ↓
-2% ↓
-2% ↓
+3% ↑
Increase N fertiliser:

from current 132 kg N/ha to 190 kg N/ha, more home-grown feed harvested and reduced reliance on imported supplements.

+51% ↑
+19% ↑
+1% ↑
0%
+12% ↑
+4% ↑
+6% ↑
Replace turnips with in-shed feeding:

of barley grain during summer, this increases pasture grazing area and allows kale crop to be sown earlier and achieve higher yields.

+6% ↑
-0.1% ↓
-2% ↓
-0.2% ↓
+2% ↑
0%
+1% ↑
Increase pasture production with irrigation:

50% of the farm irrigated with K-line irrigation, increases pasture production by 10% through Dec-March, reduced reliance on imported supplements. Note increased labour costs, repairs and maintenance, electricity and water charges. Farm owner would pay for infrastructure.

-17% ↓
+24% ↑
+39% ↑
+5% ↑
+8% ↑
+6% ↑
+17% ↑
10% Plantain:

farm stitched with plantain to target 10% of the sward; same pasture production; a third of the farm re-stitched annually.

0%
-7% ↓
0%
0%
-2% ↓
-0.4% ↓
-2% ↓
20% Plantain:

farm stitched with plantain to target 20% of the sward; same pasture production; a third of the farm re-stitched annually.

0%
-14% ↓
0%
0%
-4% ↓
-1% ↓
-2% ↓
30% Plantain:

farm stitched with plantain to target 30% of the sward; same pasture production; a third of the farm re-stitched annually.

0%
-20% ↓
0%
0%
-6% ↓
-1% ↓
-2% ↓
Tags related to
"Environmental, Doug and Emma McLeod (South Otago)"