Slow milkers or slow machine?
Quickening the pulse
Less walking, less waiting
No second-guessing
Herringbone MaxT routine
Backing off the chase
Time for teats
Spring routine
Bay of Plenty farmer Gordon McFetridge was unhappy with his team's milking process and decided to get advice from milking expert Josh Wheeler. Before this, Gordon's milking routine on his two farms in Omanawa, Tauranga was inconsistent and inefficient. Issues included differing practices, cow behaviour challenges, and staff frustrations over slow-milking cows. After consulting with Josh, they introduced the MaxT (maximum milking time) strategy, aiming for a consistent 8 to 8.5-minute milking time for each row of cows. This change, along with machine adjustments, led to a more efficient and enjoyable milking experience for both the staff and the cows.
The McFetridges have been farming in the Kaimai Ranges for three generations. Gordon came home to work alongside his father Dennis in 2009, after five years in the rural banking industry.
Frustrated that milking wasn't more enjoyable for his team, Bay of Plenty farmer Gordon McFetridge decided it was high time to seek help from milking expert Josh Wheeler. Several changes, including adopting the MaxT (maximum milking time) strategy, are starting to make a big difference for both people and cows.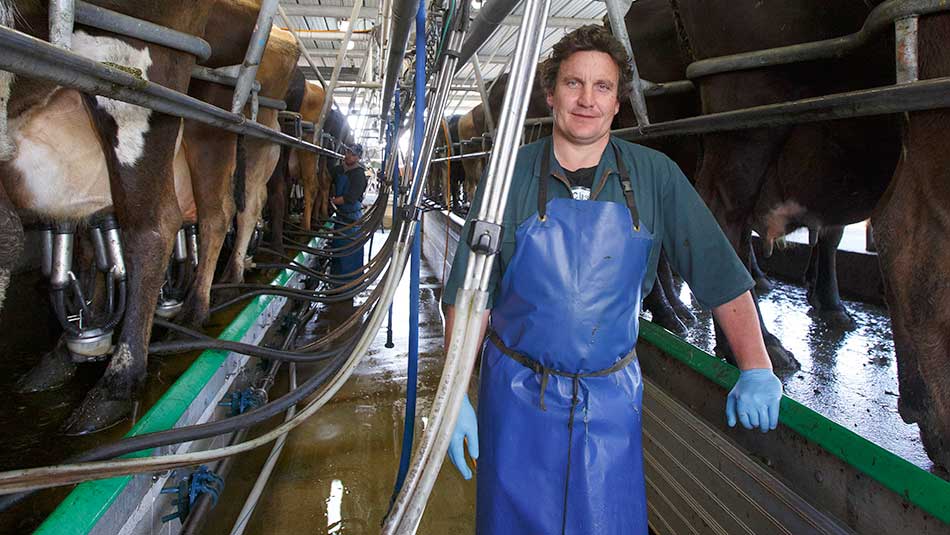 "A bit all over the place" is how Gordon McFetridge describes the milking routines on his farms until about a year ago.
The McFetridge family – parents Dennis and Judith, with son Gordon and wife Kate – run two farms in Omanawa, Tauranga. A mature herd is milked in a 20-aside herringbone twice a day (TAD), while a young herd of mainly two- to three-year-olds is milked in a 14-aside herringbone once a day (OAD) on the other farm, 5km away.
Gordon says that by late 2019, he'd become bothered by the different milking practices, cow behaviour issues, and staff complaining about slow-milking cows. It was time for a change.
"We have three or four people, including me, who milk. With the mature herd, probably two-thirds of the milk was being harvested in the morning because of our eight-hour and 16-hour milking interval [hours between milkings], and milking was taking a long time," he says.
"The milking routine got quite messy because we were jumping around the pit looking for cows to change cups on, so we never knew where we were. We all wanted to milk the cows out completely as well, because that was our mindset. That's why I decided to get in touch with Josh Wheeler."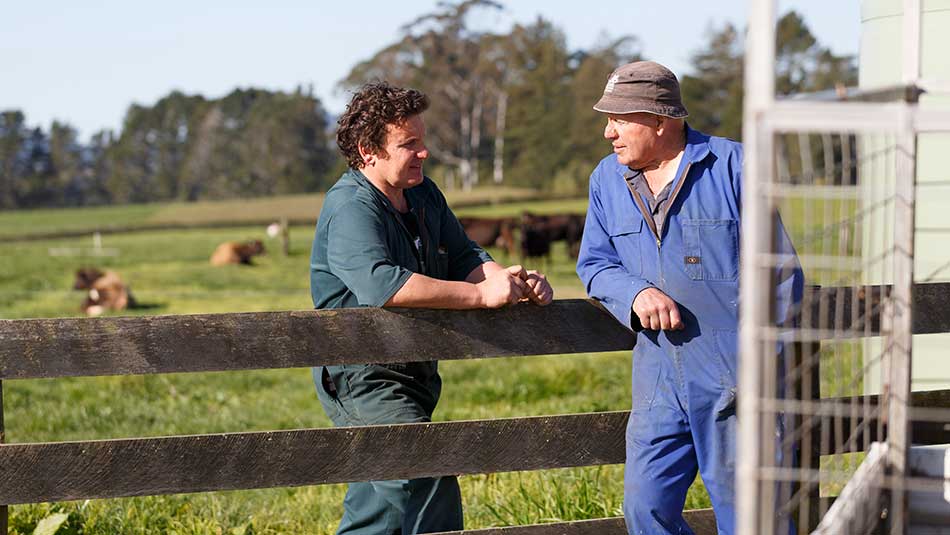 Previously, Gordon had changed the milking interval on the mature-cow farm from 10 hours between the morning and afternoon milkings, and 14 hours between the afternoon and morning milkings, to an eight-hour and 16-hour TAD interval. His aim was to have his people home at a reasonable hour in the evenings during spring. It worked well, with the team getting home between 4.30pm and 5pm, but it meant more milk needed to be harvested in the morning, making that a slower milking.
Slow milkers or slow machine?
Josh Wheeler from QCONZ is a recognised milking expert and DairyNZ Milksmart consultant. After receiving the call from Gordon, he visited McFetridge Farms in February 2020.
"The McFetridges have a high-genetic-worth herd, bred for milking, but when I got involved, 15 to 20 cows were labelled 'slow milkers'. And because of the change in the mature cows' milking interval, there was a lot of milk to harvest in the morning and the milkers were getting frustrated with slow-milking cows. That was driving illogical thinking and routines," says Josh.
"Everyone had a different point at which they'd take the cups off and this led to varied row times and a lot of walking during milking to remove the cups from the slow cows."
It wasn't all a people problem, as Gordon had suspected. Fairly quickly, Josh figured out the milking machine was harvesting very slowly, and part of the problem with the 'slow milkers' was the significant difference in pulsation ratio between bails. Some pulsators were milking 10% slower than others.

Volumes at peak production.
Quickening the pulse
Josh suggested to Gordon that, by implementing a MaxT milking routine, he'd be able to increase the pulsation ratio to milk out the cows more quickly.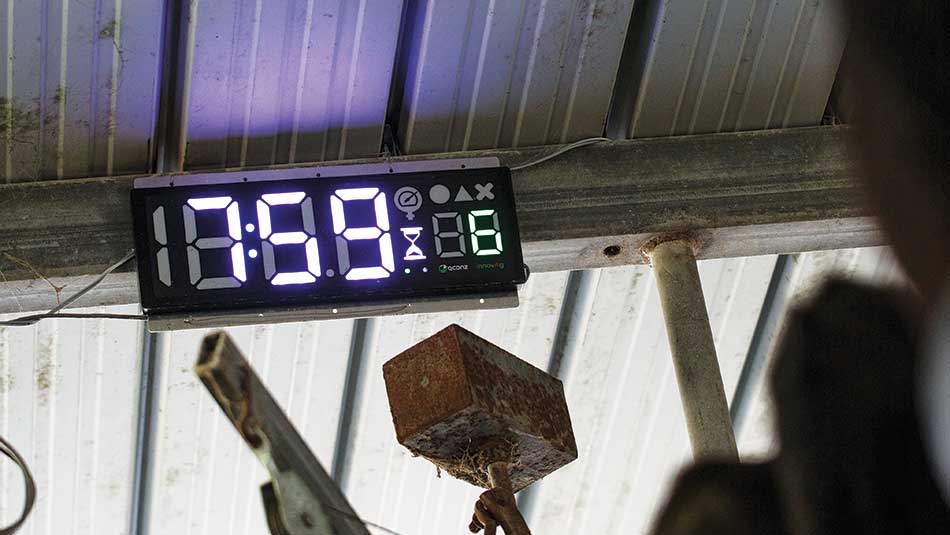 The timer was set at six minutes for each row in autumn, but it's now at eight to 8.5 minutes for spring milking.
"I explained that if he used MaxT, each row would have a set maximum milking time. Therefore, the risk of teat damage during low milk flow caused by the greater pulsation ratio would be negated," says Josh.
Once Josh suggested the change to the pulsators, Gordon spent $500 to replace worn parts and increased the pulsation ratio from what was meant to be 60:40 (but was probably more like 55:45) to 65:35.
Milking by time means everyone finishes at the same time, no matter who's milking. Pictured is farm manager Dayne Blair.
These changes have resulted in a consistent milk-out speed across all pulsators, which is 8% to 16% faster, depending on the initial pulsator performance. (Josh suggests consulting your milking machine technician before changing the pulsation ratio.)
Gordon says that during peak milk last spring, they were under a lot of pressure at the morning milking because the farm was first on the artificial breeding (AB) run. So, having the milking machine operating more efficiently would be a big time-saver.
"We were starting really early to get all the milk out and draft the cows for AB, whereas in the afternoon, they flew through, so that's when Josh suggested implementing MaxT."
Josh says the other problem to overcome was the team's inconsistency around when to end milking.
"We needed the milkers to slow down a bit and allow the cows time to milk, rather than jumping up and down the row changing cows that had finished, and machine stripping cows that hadn't."
Less walking, less waiting
Josh and the team implemented MaxT in March, and they installed a timer in the dairy. The strategy Josh recommended was to set the same MaxT time – based on the expected morning milk production – at both the morning and afternoon milkings. The target was to shorten the slowest 20% of cows at the morning milking, then fully milk them out at the afternoon milking.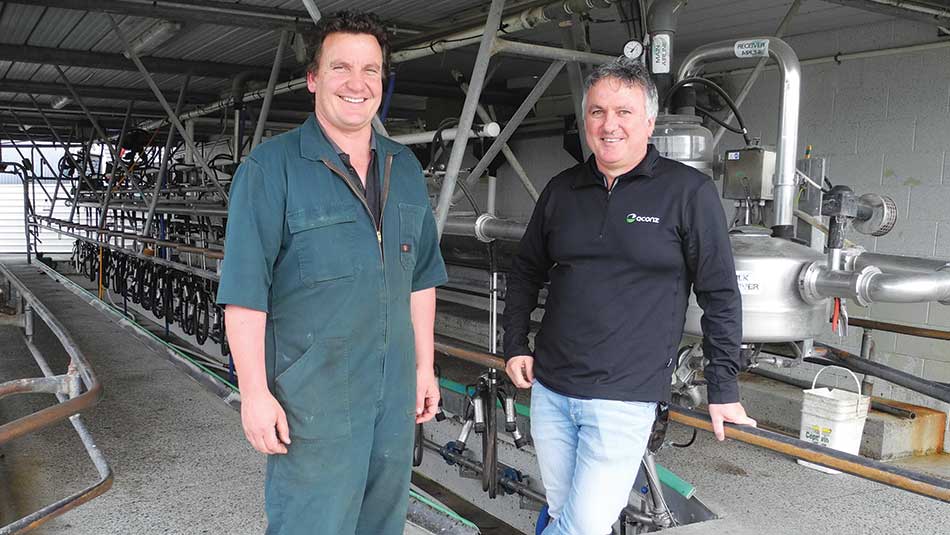 "The real pressure on milking times was during peak milk, so by implementing MaxT during the autumn, we planned to have the team up to speed on the milking routine for peak milk," says Josh.
Gordon says the milkers didn't know how much time they were spending, so everyone was changing cups at different times. They felt under time pressure and their frustrations were causing the animals to become agitated.
"We really didn't understand the problem until Josh explained it."
Once MaxT was implemented and each row was milked based on a set time period, everyone could slow down and take a breath. They no longer needed to make decisions about when to end milking – the timer told them.
"Before we had the timer, milkers were rushing around, chasing the last drop of milk out of every slow cow, holding up the entire row. In a herringbone, without a timer, the milkers had no idea how long they were taking on each row," says Gordon.
Josh says the first cow in the row was used to set the row's milking time, and the timer was activated as that cow was cupped. During autumn, with the lower milk production, the MaxT time was six minutes – each row was given this amount of time to milk.
Instantly, milking became easier for the team, as they now spent less time walking and waiting for slow cows, reducing time in the dairy.
Another notable change was that all the waiting time was now at the front of the dairy; they were typically back at the first cow with up to three minutes' wait. This meant the milkers could give cows time to exit and enter without rushing them, as they knew they had time.
Herringbone Milking Routine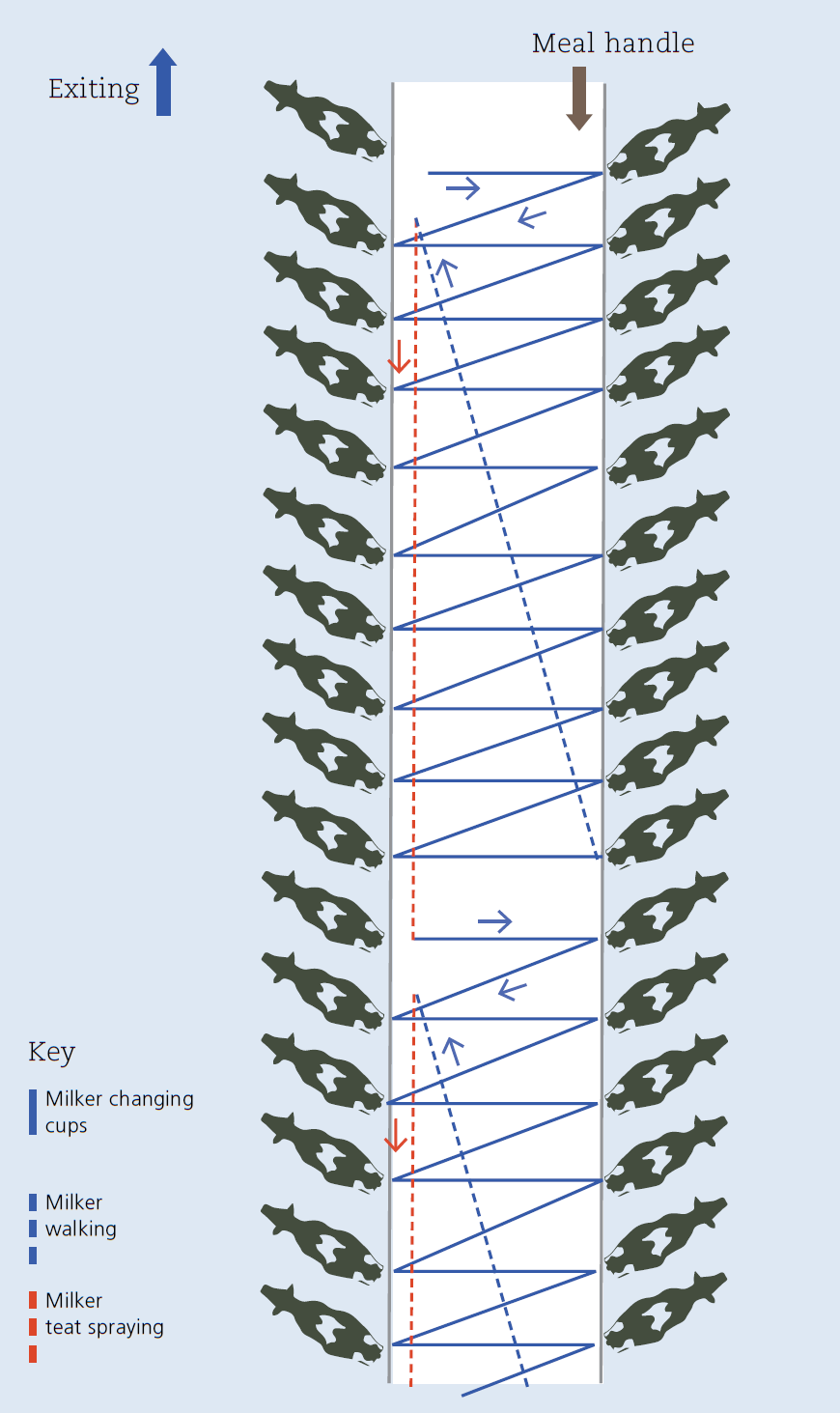 No second-guessing
Rob Acunin, who generally milks the young herd in the morning and milks the mature herd when needed in the afternoon, says MaxT has been good for cows and people.
"Waiting for cows to finish milking is a bit like waiting for someone to arrive when you don't know what time they're coming. Because of the timer, we don't have to wait for slow cows to finish and we're not walking backwards and forwards. You can check the time, get the teat spray on and still have time to wait. It's much better – MaxT has made milking easier, more efficient and fun again."
Herringbone MaxT routine – milking smarter


This video shows MaxT in action during peak lactation and demonstrates how simple and relaxed the milking routine becomes
When using MaxT, in order to keep the time consistent for all cows down the row, we recommend teat spraying after changing clusters.
This differs from the basic bunny hopping routine where tasks are completed in batches.
Everyone in the team was involved in deciding on the new routine and how each milking task should be completed with the MaxT milking strategy. They trialled the new strategy from March 2020 until the end of the season, to ensure the system was ready to go this spring.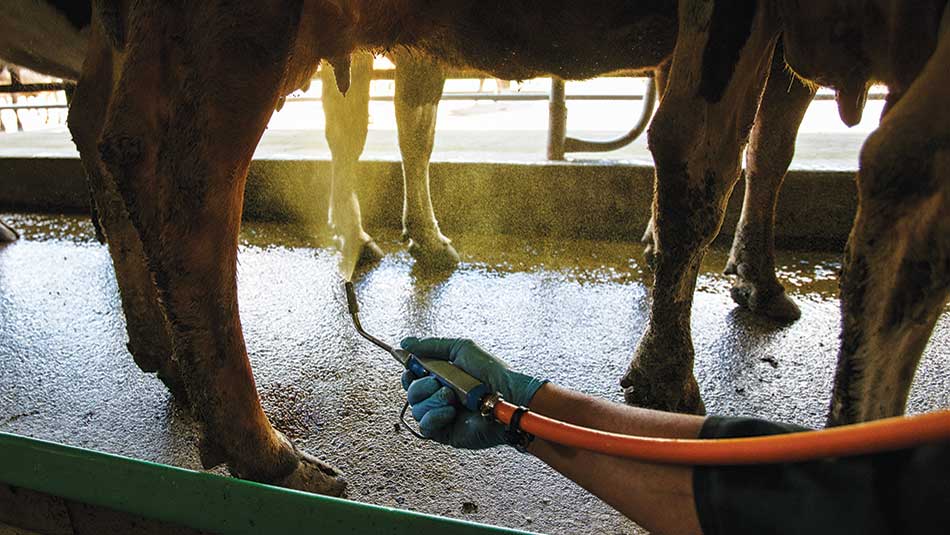 Gordon says once they'd implemented MaxT in the autumn, they were milking 180 cows/hour with no variation between milkers. Previously, it was about 140 to 150 cows/hour but could vary depending on who was milking.
"We're aiming for 130 to 150 cows/hour during peak milking, compared to the previous 110 to 120, and to have the morning milking completed in two hours or less. In the past, milking was taking up to or over 2.5 hours in the morning during peak," says Gordon.
Saving time at milking means there's more time for other important tasks, like teat spraying.
Backing off the chase
The team also learnt that leaving milk behind doesn't cause mastitis. "That was a shift in our mindset," says Gordon.
Josh showed them DairyNZ's animation on how the udder works. "They learnt that if there was more milk in the cistern, the cows milked faster at the next milking. So, they now know they don't have to chase every last drop of milk," says Josh.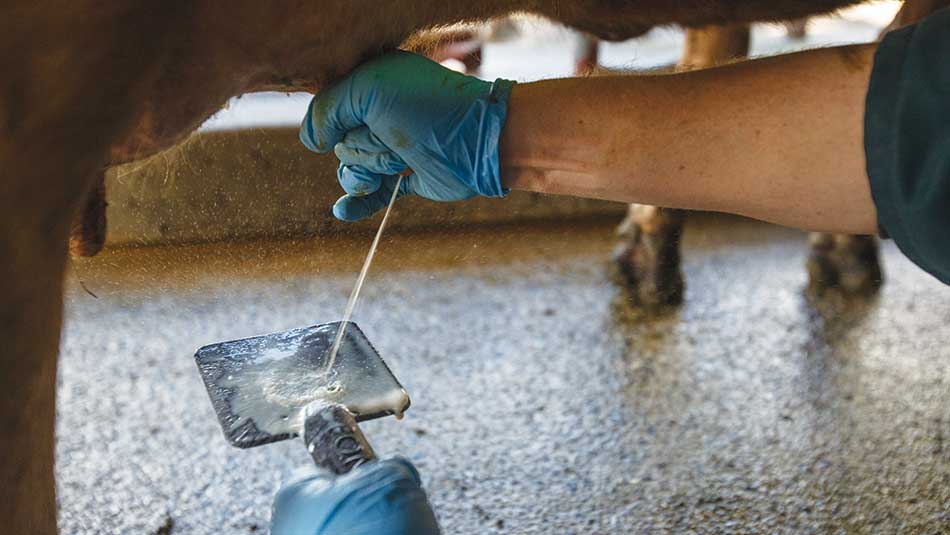 "I also explained that it's good practice to have control of your bulk tank SCC prior to implementing MaxT."
Dayne Blair, who milks the mature herd, says he's stopped looking out for slow milkers, and instead now focuses on the timer to decide when to end milking.
"After a while, you don't notice the slow ones and you don't have to stress about milking the cows right out. It helps that we're all on the same page. It's way easier to stick to a time and know that it's not necessary to milk cows until their udders are pancakes."
Time for teats
Another frustration for Gordon was teat spraying not being done well, which MaxT has helped them to remedy.
"Previously, our teat spraying was a bit slap-happy as everyone was rushing putting it on. With the new routine, we know the time and have more time to focus on teat spraying instead of waiting for slow cows. Everyone's doing a better job. It was one of the key things we wanted to get better at."
Assistant farm manager (on the 'Lower Farm') Rob Acunin says MaxT has been good for cows and people.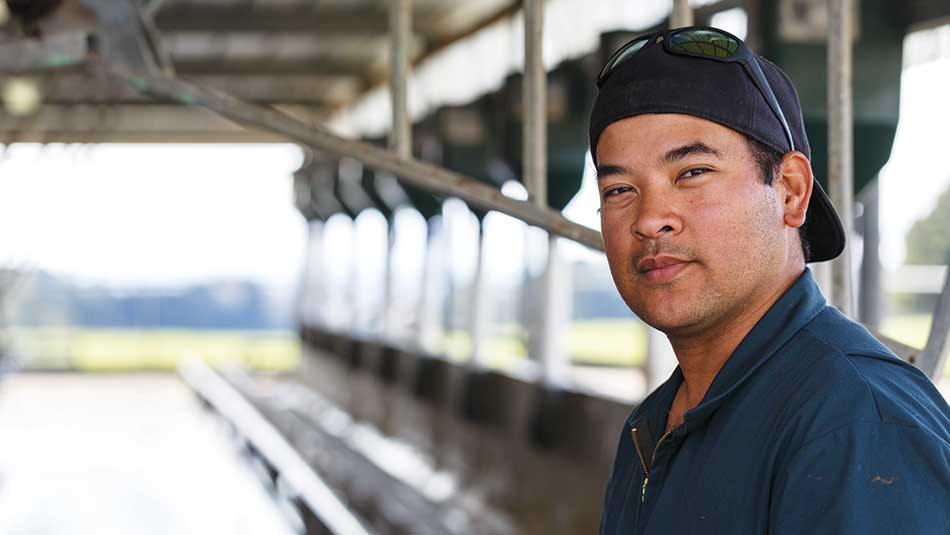 Spring routine
This spring, MaxT times will target eight to 8.5 minutes each row at AM and PM milkings, depending on peak production. The herd typically peaks at 26L/cow, so the MaxT time will be recalculated weekly as the cows head towards peak milk. The MaxT times will then be used to set the row time.
Gordon is also expecting his cows to be milking faster due to the better pulsation consistency between bails and the slightly higher pulsation ratio.
"We'll have no slow cows marked because all cows will be given the same milking time," says Josh. "We'll be monitoring MaxT times as we go because we're aiming to shorten 20% of the cows in the morning, and if we're not doing that, we can speed up the time. If we're shortening more than 20%, we'll slow down the time."
For Gordon, milking by time means everyone finishes at the same time, no matter who's milking.
"In September [2020] we consistently milked 150 cows an hour, and we're shortening 12% of cows in the morning and 3% in the afternoon. Our SCC is sitting between 90,000 and 125,000. With an efficient routine, we have a lot more time (about three minutes a row) to focus on things like pre-mating heats," he says.
We spend less time in the shed, making for happier people and cows. MaxT has made milking more enjoyable.
Gordon McFetridge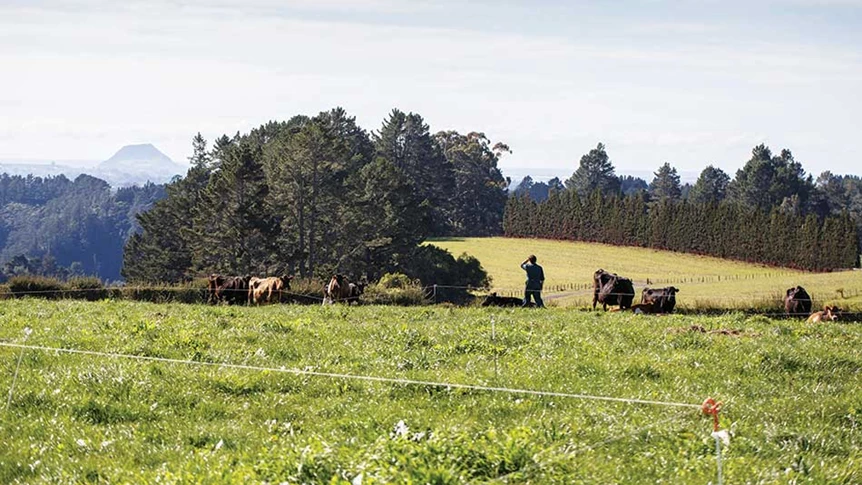 Not a bad view from the office – Mount Maunganui visible in the distance.
Tags related to
"Milking Efficiency, Gordon McFetridge (Bay of Plenty)"