More time, more profitable
Happier, healthier cows
Staff wellbeing
Working on the business
Balancing work and play
Unforeseen consequences
Picking up awards
Is OAD for everyone?
Should you be milking once a
Before and after adopting OAD comparison
Inspired by Rakaia Island Dairies, Leo Vollebregt adopted once-a-day (OAD) milking, transforming his farming routine. This shift led to many benefits: improved profitability, cow health, and staff wellbeing. Their farm now finishes daily tasks by 5:00pm, ensuring a good work-life balance for the team. Although OAD brought some initial challenges, like culling cows unsuited for the method, the outcomes have been rewarding. If considering OAD, visiting an operating OAD farm is recommended.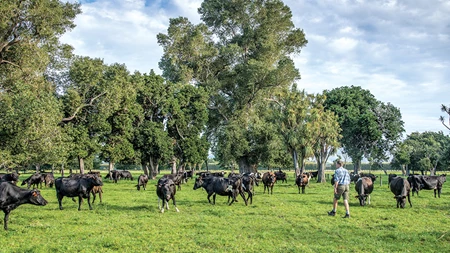 Leo Vollebregt's aim was always to run a profitable, productive and attractive dairy farm where everyone enjoyed working. But 10 years ago, that wasn't the case. He was losing staff, his cows weren't doing well and he urgently needed to do something about it. Then came a lightbulb moment – and a decision that changed everything for his team, his herd and his business.
Farm profile
Owners
Leo and Rebecca Vollebregt
Contract milker
Joseph Vollebregt (son)
Location
Kahutara, South Wairarapa
Farm size
155ha (effective)
Herd size
580 crossbred cows
Production
205,000kg MS (average)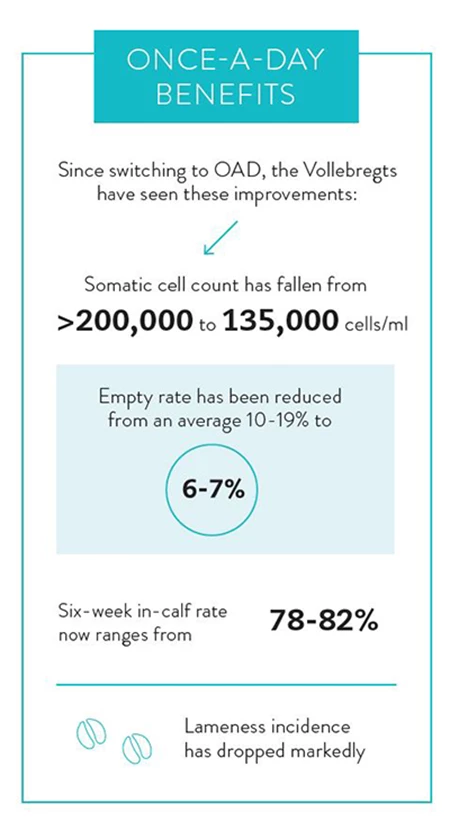 Kiwi farmers are known for their strong work ethic, often working long hours, especially at busy times like calving and mating. But finding a 'sweet spot' that benefits the wellbeing of both staff and animals is not always straightforward.
South Wairarapa farmers Leo and Rebecca Vollebregt know this all too well. Back in 2007, they were battling with staff turnover, cow wastage and the need to streamline an expanded business. Something had to change.
Their desire to improve profitability, get the cows to last and the staff to stay, coincided with a 2007 discussion group trip to Canterbury. This included a visit to Rakaia Island Dairies, whose owners Dave and Doug Turner had been early adopters of once-a-day (OAD) milking. Taking part in that discussion triggered a lightbulb moment for Leo, resulting in a life-changing adjustment to his milking routine.
"I realised OAD milking was something that would work well for us, so Cory Wildman (herd manager at the time) and I started making plans straightaway," says Leo. "We discussed it with Rebecca when we got home, and also with FarmWise consultant George Reveley, and made a commitment to the new way we were going to operate. We didn't overthink it."
Prior to that discussion group, Leo had completely disregarded OAD. "But after the Rakaia Island visit, I knew OAD could work for staff and cow sustainability, as well as profitability, and that we could do quite well running a simple operation. We didn't waiver; we started OAD in the new season of 2008 and we've had no regrets."
More time, more profitable
Profitability is important to the Vollebregts and so, for the last 10 years, they've used DairyNZ's DairyBase to compare their performance to other farms. DairyBase (dairynz.co.nz/dairybase) collates farm data and shows comparisons between seasons and information for top-performing farms. The Vollebregts' performance is regularly in the top 20 percent benchmark for the North Island.
Leo says there's less time pressure with OAD because you can choose to milk the cows at a time that suits you.
"Once milking is over, there are no deadlines to meet because you don't have to bring the cows in again at 2.30pm. This gives us more time for other things and everyone finishes work at 5:00pm."
Happier, healthier cows
Shifting to OAD has also brought animal welfare benefits. While the Vollebregts' per-cow production has fallen slightly, their per-hectare production has risen, the calving period has shortened, the empty rate and lameness have reduced markedly, cows get in calf more quickly and the somatic cell count has dropped.
Leo puts the animal welfare benefits down to his 580 crossbred cows being in better condition, not having to walk so far and having less milking stress.
Staff wellbeing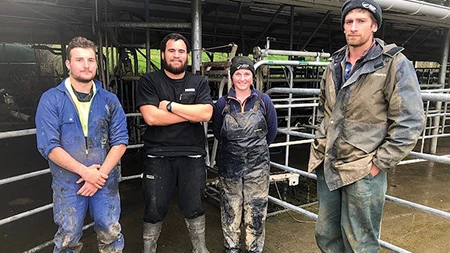 The farm team is happier too, says Leo. They work a 40- to 45-hour week on flexible working hours.
"We start milking the two herds at 6:00am, and finish milking by mid-morning when the team moves on to other jobs," says Leo. "When it comes to the weekend, once the cows are milked and the irrigators moved, everyone has finished before lunchtime and is free for the rest of the day."
In former times, Leo had to employ more staff to spread the load so his staff weren't working excessive hours. There were more time pressures overall.
When they started OAD, the Vollebregts reduced their farm team from 4.5 to three employees. Leo says the work can be handled well with that many staff, although it can get hectic during calving.
"Because we staff according to demand for the majority of the season, it can mean we're understaffed during calving. Even so, the job is 'do-able'. Our team understands this period is very busy, and I help out if necessary."
Working on the business
Joseph Vollebregt, Leo and Rebecca's son, started contract milking for his parents this season. This has enabled Leo to step back from day-to-day dairy operations and take on a more strategic role. He spends more time looking at the big picture, guiding the team and overseeing the farm's development to ensure it stays up-to-date.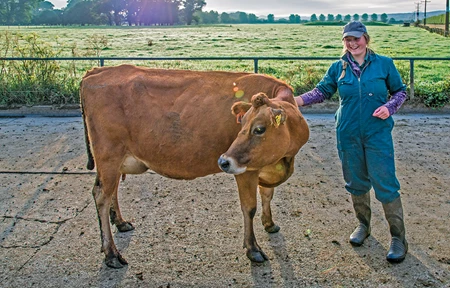 "I enjoy the job more too," says Leo. "If you're more confident with the operation, you have time to look at the next challenge and explore new opportunities."
He also has time for more leisure activities. In his spare time, he sings in a local men's choir, walks and cycles with his family and is actively involved in several organisations, including being on the Farming Reference Group for the Greater Wellington Regional Council, and serving as chair of the Wairarapa Water Users Society. Leo also does occasional judging for NZ Young Farmers.
Ownership in a nearby farm – bought in 2012 and converted from sheep, beef and cropping into OAD dairying – is shared equally by Leo and his brothers, Gerard and Pete, and their wives. Leo and Rebecca's eldest son, Adam, 50:50 sharemilks 570 cows on this property.
Balancing work and play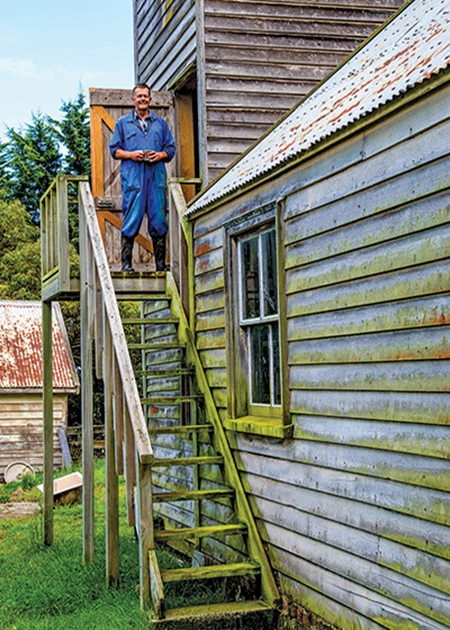 Leo began dairy farming after he left Telford Farm Training Institute in 1975. He went sharemilking in 1979 and bought his first farm in 1984. Two decades later he and Rebecca bought a neighbouring farm, which expanded the platform to its present 155ha.
Looking back, the advice Leo would give to his 20-year-old self is: 'Do what you enjoy, study well and work hard!'
"There's nothing wrong with working hard, but everyone needs leisure time and we should have a good balance between both."
"I'd like to take a leaf out of my neighbour Bob's book," says Leo. At 87, former engineer Bob Bargh helps local school children with remedial maths. "Bob doesn't ask the children what they're going to do when they grow up; he asks them what they're going to do with their spare time."
Unforeseen consequences
Switching to OAD hasn't all been smooth sailing though, says Leo. With the cows having to carry twice as much milk in their udders, not all were up to the task and had to be culled. Fortunately, udders are a heritable trait, so the Vollebregts select semen from premier sires whose female offspring are more likely to produce lower milk volume, high milksolids and to have good udders.
Picking up awards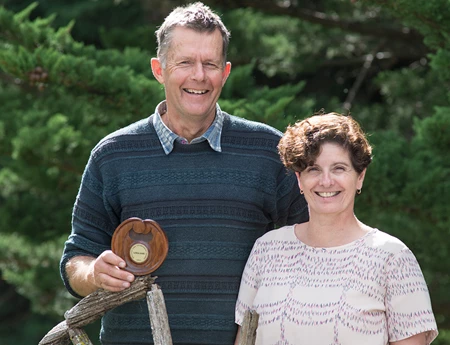 On-farm improvements have been reward enough for the Vollebregts, but their farming practices have also earned them a number of awards in recent years. Leo and wife Rebecca were the supreme winners of the 2015 Greater Wellington Ballance Farm Environment Awards (BFEA). That year, they also received the Ballance Agri-Nutrients Soil Management Award, the Livestock Improvement Corporation (LIC) Dairy Farm Award and the PGG Wrightson Land and Life Award.
The BFEA judges described the Vollebregts as leaders in the dairy sector, "setting the bar for performance in all aspects of their business". The judges said the Vollebregts' farm is efficient, well-structured and impeccably tidy, with excellent profitability that puts the operation in the top tier of dairy businesses.
Is OAD for everyone?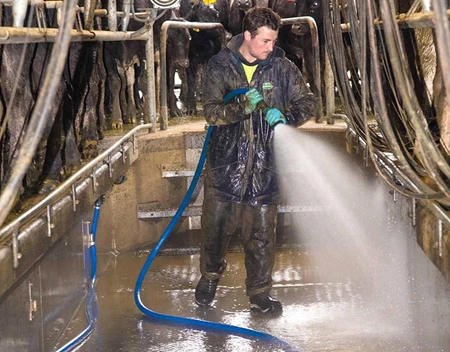 Leo says that OAD is something everyone should consider among all the other options. He says it's an option that could work on most farms and recommends visiting a OAD farm.
"In my own case I disregarded the thought of OAD because of what various magazine articles said about the downsides. But once I'd visited the Turners I could see what was possible and I was able to get a picture in my head of how it would work for us, and I think that's important. At the end of the day, you're still converting your feed efficiently into milk."
Should you be milking once a day?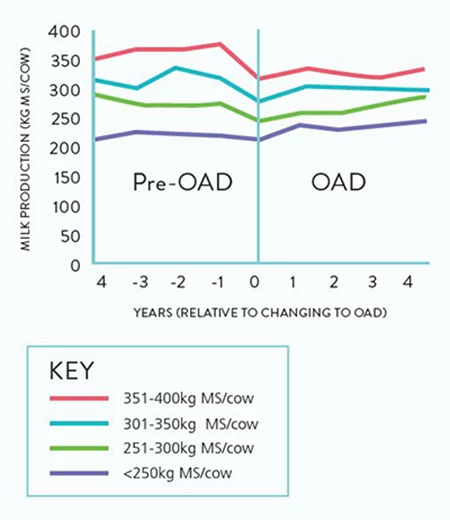 The first question farmers ask about OAD is 'how will it affect my production?' Analysis of 300 fullseason OAD herds between 2007/08 and 2015/16 identified that the change in production was largely determined by what the herd was producing before OAD (see graph on right). Herds producing less than 300kg MS/cow had a smaller decrease in production than those producing more than 400kg MS/cow, with little change in stocking rate.
So if you're under 300kg MS/cow, OAD is worth serious consideration. If you're doing more, OAD is still an option but other farm system changes may be required.
Nationally, 39 percent of herds use OAD partseason or for part of the herd. The number of herds milking full-season OAD is about nine percent, despite nearly 20 percent of herds producing less than 300kg MS/cow. OAD represents a significant opportunity for these farms.
Before and after adopting OAD comparison
The following graphs are a comparison of stocking rate, production and business performance before and after implementing OAD milking. The analysis was carried out comparing Leo's farm to the top 20% of DairyBase farms, from before adopting OAD milking and for 8 seasons following the change.
Legend:
Red line up to 2013/14 - DairyBase owner-operators
Red line from 2013/14 - DairyBase owner-operators with a contract milker
Blue line - Leo's farm (first OAD season 2007/2008)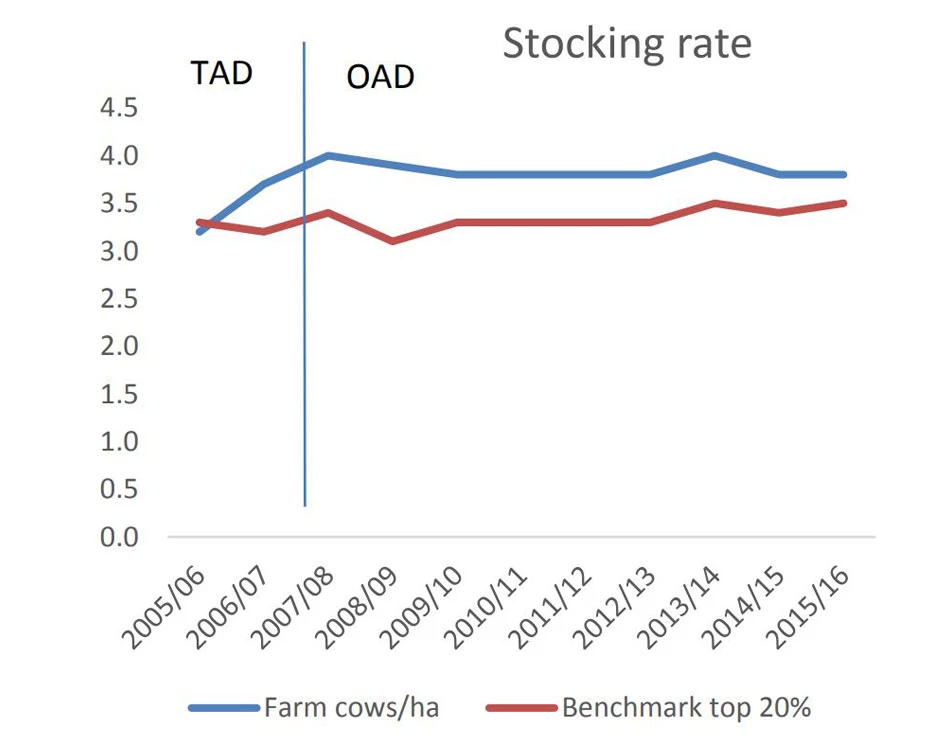 Stocking rate change: 6% increase in first season of OAD, returned to pre-OAD size of 580 cows by third season.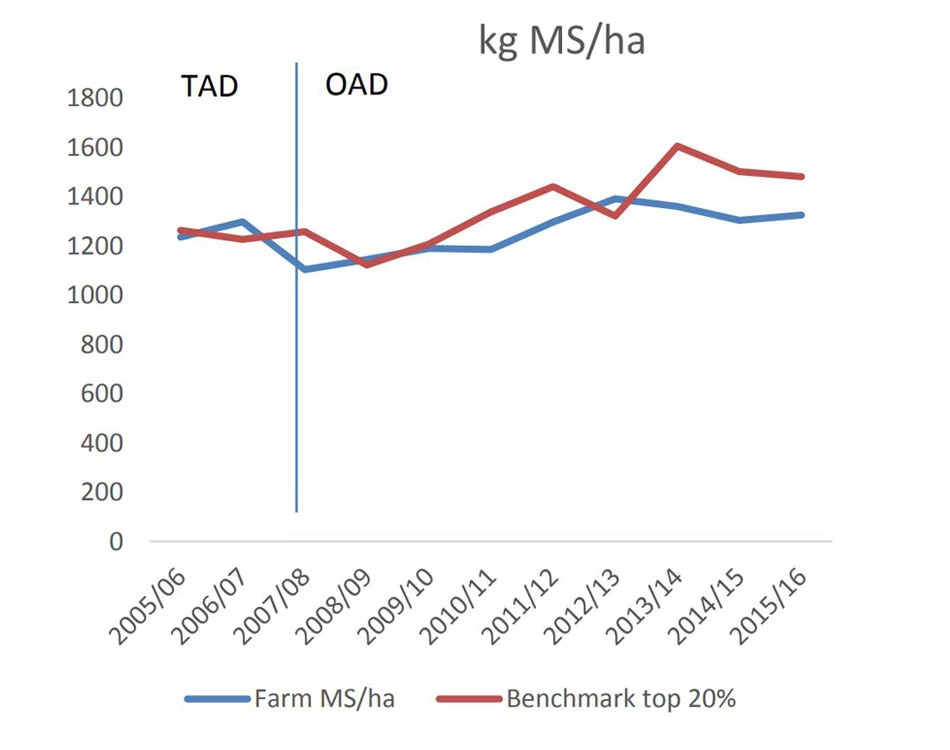 Production per hectare change: 15% decrease in first season of OAD. Back to previous per ha production after five years.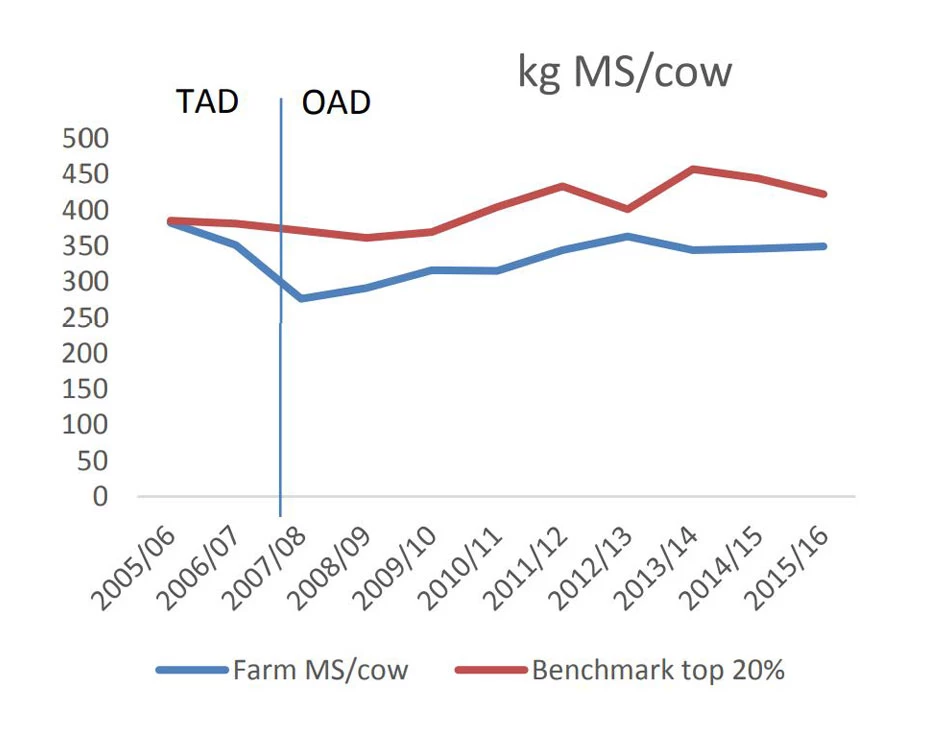 Production per cow change: As Leo anticipated, milk production per cow decreased for the first season of milking OAD. Through breeding decisions and culling this figure has increased.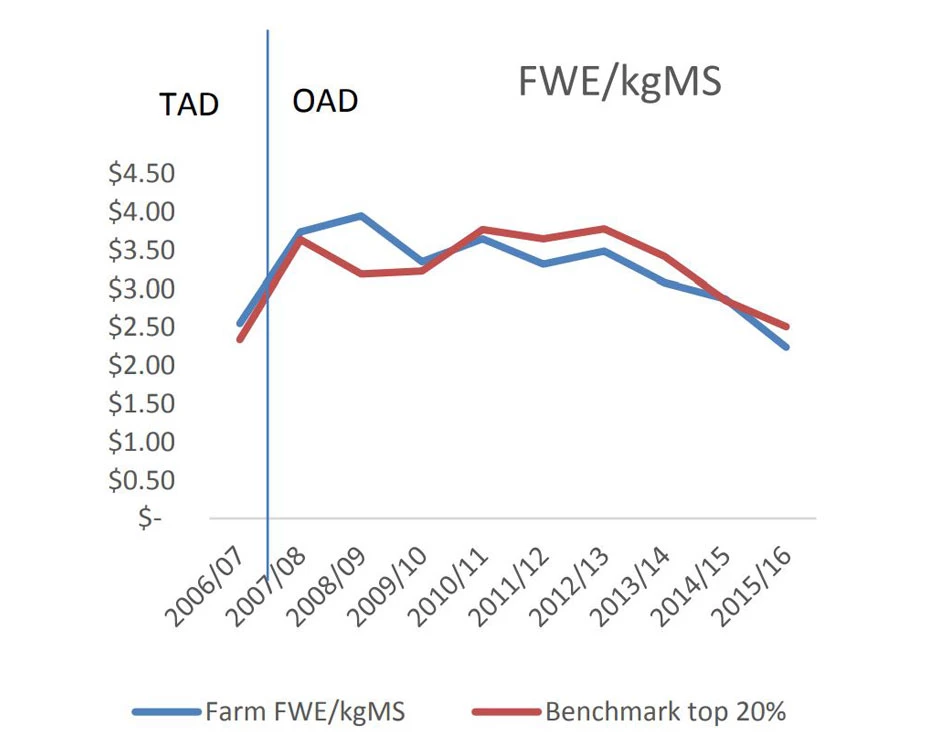 Farm Business Performance: Leo's farm business has consistently matched that of the national top 20% benchmark for economic farm surplus ($/ha). Leo's farm working expenses have seen a consistent downward trend since 2008/09. Biggest impacts of OAD have been wages and reproduction (gone from buying to selling cows).
Tags related to
"Once-a-day Milking, Leo and Rebecca Vollebregt (Canterbury)"