Farm information
Practice changes
Nitrogen leaching reduction
Alderbrook Farms, located northwest of Rakaia, has been dedicated to continuous improvement for over 20 years. Owned by Jane and Marv Pangborn, their two dairy units, Alderbrook and Karetu, milk about 1,200 cows on 338 ha, with additional support from three 184 ha blocks. They're achieving their goal of a 30% reduction in nitrogen losses. As part of DairyNZ's sustainability project, they're considering a composting barn system for Karetu to further reduce nitrogen losses. This potential system's costs and benefits were discussed at an Alderbrook field day, with more details available in a provided handout.
Alderbrook Farms have focused on continuous improvement over the past 20 years and are always striving to be better.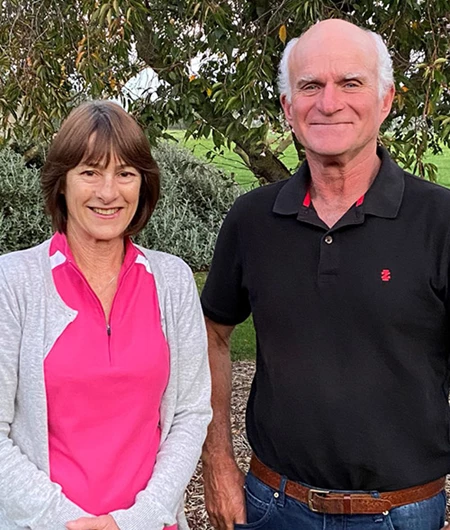 Farm information
Alderbrook Farms are in the Selwyn catchment, located northwest of Rakaia on the north bank of the Rakaia River. The dairy business is owned by Jane and Marv Pangborn, and the two dairy units are sharemilked  (Alderbrook) and contract milked (Karetu) by the Pangborn's daughter and son in law, Lauren and Liam Kelly. 
They run a self-contained unit with all the winter feed, young stock and balage coming from their support blocks. The dairy units milk about 1200 cows on roughly 338 effective ha and utilise the 3 support blocks of 184 ha. 
Practice changes to reduce environmental impacts
Marv says that Alderbrook Farms began making environmental improvements over 20 years ago, starting with fencing off waterways from stock, and then installing soil moisture meters and flow meters.
Since, then there have been many more changes including replacing border dyke irrigation with pivots and fixed grids, installing water storage and effluent storage. These improvements have cost nearly $1.7 million.
"Most Canterbury dairy farms were developed using what was considered best practice at the time and our rural communities prospered from the boost this provided to our economy. We now have a better understanding of some of the environmental impacts farming can have and we are working to mitigate them and set up to farm with a reduced impact going forward," says Marv.
In the 2020/21 season a further $300,000 will be spent on improved irrigation technology on Alderbrook Farms.
Nitrogen leaching reduction progress and composting barn option
Currently, the Pangborn/Kelly family are on track to meet the target of achieving a 30 percent reduction in N losses across the whole Alderbrook Farm area.
As part of DairyNZ's Meeting a Sustainable Future project, the effects of introducing a composting barn system into the Karetu dairy unit which is part of Alderbrook Farm was modelled.
This was considered as the Karetu unit is currently not contributing to the reducing Alderbrook's N losses. It also provides the family with options should the rules change to require that each farm unit achieve a 30 percent N loss saving.
The modelled costs, benefits and disadvantages of a barn system were discussed at a field day at Alderbrook – you can read more about this in the latest field day handout below. See the analysis done on a composting barn for Karetu farm.
Tags related to
"Reducing Nitrate Leaching, Marv and Jane Pangborn (Canterbury)"