A large-scale study looked at whether starch-based supplements could offer reproductive benefits to cows compared to fibre-based ones when given the same energy. Conducted by Cognosco/DairyNZ on 1000 cows, it examined the idea that starch-rich feeds could boost hormones leading to better reproduction. The study divided cows into two groups: one receiving starch-based food and the other getting energy from fibre-based feeds. However, the results showed no advantage in using starch-based feeds for reproductive gains. In fact, there were potential risks. The conclusion? The total dietary energy is crucial, not its type. When buying supplements, focus on energy value per cost.
A large-scale study determined that starch-based supplements did not provide reproductive benefits relative to fibre-based supplements when cows were fed the same amount of energy.
The Cognosco/DairyNZ study was conducted in 1000 early lactation cows across three Waikato farms during the 2014/15 season.
It tested the theory that starch-based supplements (e.g. maize grain or barley) can increase hormones, such as insulin and insulin-like growth factor 1 (IGF-I), which leads to earlier cycling and improved reproduction in pasture-based systems.
In this experiment, half of each herd was supplemented with 4 kg DM/d of a starch-based concentrate. The other half received the same energy from a fibre-based feed (e.g. 5 kg DM/d of PKE, soy hulls, or pasture silage). The supplements were fed from calving until 4 weeks before mating start date; on average, each cow received supplements for 30 days post-calving.
The results highlighted there was no benefit of feeding starch-based supplements compared with fibre-based feeds on any reproductive measures. There was no evidence of earlier cycling or improved submission rates. In fact, there was a risk of reduced 6-week In-Calf (Figure 1a) and Final In-Calf rates (Figure 1b) when cows consumed the high-starch diet.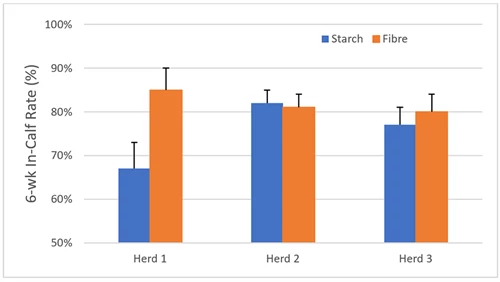 Figure 1a: 6-week In-Calf Rate (%)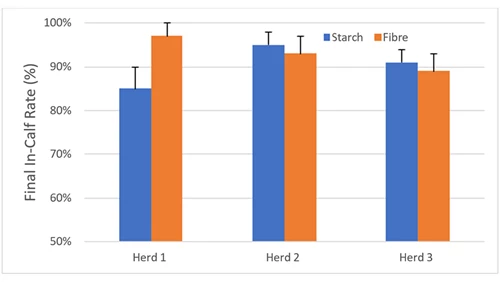 Figure 1b: Final In-Calf Rate (%)
This trial indicates that feeding starch-based supplements to increase insulin and IGF-I has inconsistent effects on cycling and other reproductive measures between herds. Variation in reproductive responses between herds could be due to differences in base diet composition, level of supplementary feeding, substitution rate and milk production.
Therefore, the total amount of dietary energy (i.e. megajoules of metabolisable energy [MJ ME]) is more important than the type of dietary energy. Good quality pasture has adequate dietary energy to meet herd feed requirements during early lactation, but if there is insufficient pasture cover, then supplements will be required to increase the total energy available to the herd. Because the type of supplement used to achieve this is secondary, purchase decisions should be based on cents/MJ ME.
Find out more about feed supplements, feed values (ME), feed storage and density, and the milksolids response to supplements at dairynz.co.nz/supplements
To find out more about this study go to:
McDougall, S.; Leane, S.; Butler, S.T.; Roche, J.R.; Burke, C.R. 2018. Effect of altering the type of dietary carbohydrate early postpartum on reproductive performance and milk production in pasture-grazed dairy cows. Journal of Dairy Science, 101: 3433-3446 https://doi.org/10.3168/jds.2016-12421
Tags related to
"Starch Based Supplements and Reproduction"