About the project
Managing your footprint
Partner farms
Funding partners
Achieving improved environmental outcomes in dairy farming varies from one farm to another. To grasp this, a partnership was formed with four farms in Southland and Otago. The goal is to understand environmental and financial performance and discover ways to enhance both. The project emphasises water quality and educates farmers on the effects of changing systems on greenhouse gas emissions and profitability. To better manage the environmental impact, suggestions include efficient N fertiliser use, planting pastures with plantain, and investing in infrastructure. The Participatory Research project, linked with the Southern Dairy Hub, explores these solutions, supported by various funders including DairyNZ and the Ministry for Primary Industries.
We know there is no 'one size fits all' approach when it comes to achieving improved environmental outcomes, so we have partnered with four farms across the region to better understand their environmental and financial performance and identify management options to improve performance.
About the project
We have taken an integrated environmental approach focusing on water quality outcomes, while increasing farmer awareness of system change impacts on greenhouse gas emissions and farm profitability. By partnering with farmers across Southland and Otago we have recognized the range of landscape-specific vulnerabilities and farming systems that require different solutions. Through the partner farms and their communities, we have investigated options for improved environmental outcomes as well as extended the research from the Southern Dairy Hub.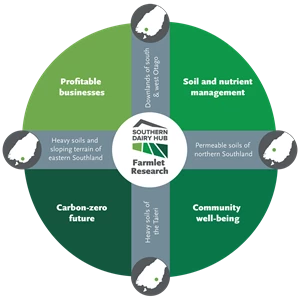 Opportunities to manage your environmental footprint
Reducing the N surplus through more efficient N fertilizer use and reducing the reliance on imported supplement
Including plantain in pastures
Sowing catch crops following winter forage cropping
Investment in infrastructure reduced nutrient loss to water, however the impact on greenhouse gases and profitability will depend on the type of infrastructure and how it is integrated into the system.
Funding partners
The Participatory Research: Enhanced Research Adoption project, is part of DairyNZ's research work with the Southern Dairy Hub. It started in July 2019 and ends in June 2022. It's led by DairyNZ, run jointly with AgResearch, and funded by the Ministry for Primary Industries' Sustainable Farming Fund. DairyNZ and the South Island Dairy Event are co-funders.
Tags related to
"Modelling Environmental Farm System Change"