The mission
What's been happening
What this research means
Dairy farmers, particularly in southern South Island, are seeking innovative off-paddock wintering options as an alternative to forage crop grazing. The mission is to find alternative 'super loafing surfaces' for cows that are both comfortable and cost-effective and can be incorporated into existing wintering infrastructure designs. Surfaces like rubber matting, pour-in-place surfaces, and loose fill bedding are under consideration. After intensive testing in different conditions and based on farmer feedback, a concept design has been finalised. This initiative is a joint effort between southern farmers, DairyNZ, and the Ministry for Primary Industries.
The mission
Off-paddock Wintering Facilities and Systems for Southern Dairying aims to investigate off-paddock wintering alternatives to forage crop grazing that are affordable to establish and operate and provide an innovative, sustainable solution to cow welfare, working conditions and environmental impacts.
The investigations to date have included identifying and testing new 'super loafing surfaces' that support cow comfort and are practical to include.
The surface options that fit this category included:
Rubber matting
Pour-in-place surfaces
Loose fill bedding
Let's look at what's been happening…
2020: Comprehensive scan for alternative cow loafing surfaces
A thorough scan was conducted for alternative products that could be used as cow loafing surfaces. We gathered information on products used by other dairy industries, and in the civil engineering, and sports surface industries.
2021: Design testing (calan barn)
Four loafing surfaces were evaluated under controlled conditions (inside a barn) for their ability to provide a sustainable option for:
Cow comfort (lying time)
Cleanability
Non-slip (traction)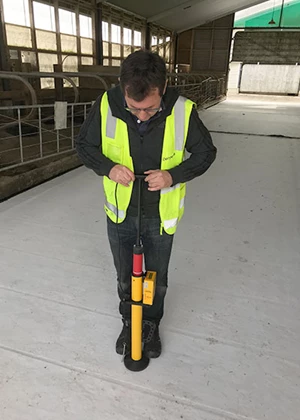 Using a Clegg hammer on a novel loafing surface.
2022: Design testing (Southland winter conditions)
In the winter of 2022, we partnered with a dairy farmer in Southland to test the selected surfaces in real-life farm conditions to determine their fit in an existing infrastructure design.
The three surfaces were:
Shredded rubber pour-in-place with an overlay of durable geotextile (cow carpet)
Rubber-plastic pelletised pour-in-place with an overlay of durable geotextile (cow carpet)
Rubber tiles.
Despite some success in research phases, the recycled rubber/plastic/resin cow-lying surfaces tested were found to either have implementation issues or not be cost-effective to use.
Construction planning
A delay to the initial construction start date of the infrastructure planned at Southern Dairy Hub has allowed time to explore various designs and finalise a concept that is fit-for-purpose and realistically priced.
Originally, the build concept was to be a low-cost and affordable wintering infrastructure. Based on farmer feedback, the structure was revised to be 'multifunctional' to support farm system and component research and demonstration at the Southern Dairy Hub (SDH).
The concept will be a standalone research and demonstration facility with its own supporting infrastructure. This includes an effluent system, the capacity to test two loafing surfaces, and cow and tractor lanes. With a finalised concept design, we have a detailed understanding of the build costs and will be seeking additional funding from the Ministry for Primary Industries Sustainable Food and Fibre Fund, and DairyNZ.
What this research means for you
Our research to date for this project has helped us better understand wintering surface options and has provided valuable insights into best practice design and build processes for wintering infrastructure. Our learnings will help inform farmers of the key factors to consider when looking at different wintering options.
DairyNZ also continues to prioritise supporting southern farmers to meet wintering challenges – this work includes providing on-the-ground advice, practical tools, and advocacy activity.
This project is in collaboration with southern farmers and DairyNZ, in partnership with the Ministry for Primary Industries' Sustainable Food & Fibre Futures.
Tags related to
"Off-Paddock Wintering Facilities"