Research aims
What we have found so far
15 years of research
The Pillars of a New Dairy System is an eight-year research programme by DairyNZ to enhance cow health, fertility, and lifespan. The research focuses on closing the gap in the In-Calf rate, enhancing genetics for cow fertility, understanding poor conception rates, reducing on-farm cow mortality, and ensuring rapid recovery post-calving. Notably, the research found that most pregnancy losses happen in the first week post-breeding. Also, 21% of cows exit herds annually, largely due to health issues. High-Fertility Breeding Value cows present better fertility rates. DairyNZ has collaborated with many universities and organisations, benefiting from their diverse expertise.
The Pillars of a new dairy system is an eight-year DairyNZ-led research programme that aims to provide management and genetic solutions to improve cow health, fertility and longevity.
Our research aims to:
Address the gap between the current average 6-week In-Calf rate of 66% and the industry target of 78%
Improve herd reproduction through better genetics by identifying new traits for cow fertility
Determine the timing and causes of poor conception rates, and identify approaches to improve oocyte quality and embryo survival
Characterise on-farm mortality and culling at different cow life stages in NZ dairy herds
Develop new measures of cow longevity/survival related to good health and robustness, leading to accelerated genetic improvement in this trait
Determine strategies that improve transition cow health by optimising metabolic, mineral or immune status
Identify management solutions that improve reproduction by accelerating recovery of a healthy uterus after calving.
What we have found so far
Inefficiencies currently cost the sector more than $1.5 billion per annum (p.a.). Through delivery of innovative solutions, we estimate $550 million p.a. can be recovered
Most pregnancy losses occur in the first week after breeding. Pre-mating cycling rates are important. The chance of conception increases by: 18% with each cycle before mating 13% with each extra week before mating
Pregnancy Losses in the first week After Breeding
21% of cows are removed from the herd each year. 60-80% of removals are involuntary or avoidable. We are developing a new Functional Survival breeding value that focuses on genetic selection for cows that are less likely to be removed for health-related reasons
Better Genetics for Cow Longevity
- Reproduction 37% - Udder Health 11% - Health Disorders 31% - Low production 8%
High-Fertility Breeding Value (Fert BV) heifers reach puberty 25kg lighter and 21 days earlier than Low-Fertility BV heifers. High-Fert BV cows had substantially greater 3-week submission rates, resulting in over 30% higher 6-week in-calf rates during first and second lactations
New Traits to Improve Genetic Merit for Fertility
Herds with low 6-wk In-Calf rates will obtain greater benefits from using High Fertility BV bulls than herds with high 6-wk In-Calf rates
Setting Up a Fertile Herd
On average, 25% of cows have an unhealthy uterus one month before mating, which reduces cow fertility. This can range from 5-65% in individual herds
Endometritis Reduces in Calf Rates
Blood BHBA* levels alone are not a good indicator of sub-clinical ketosis or underperformance in a pasture-based system  - β-hydroxybutyrate
Blood BHB and Cow Performance
15 years of research
We're marking 15 years working alongside farmers to provide scientific solutions to farming challenges. Pillars of a New Dairy System was a collaborative research programme that brought together leading international scientists. It made several exciting discoveries to help improve dairy cow health, fertility and longevity. Find out more in the video below:
This programme is funded by NZ dairy farmers through DairyNZ Inc. and by the Ministry of Business, Innovation and Employment (MBIE), with additional funding from AgResearch and in-kind support from LIC and Fonterra.
Research partners
This programme involves a multi-disciplinary team of research collaborators led by DairyNZ. The core team involves: AbacusBio, AgResearch, Cognosco (a division of Anexa Animal Health Centre), Massey University, Monash University, New Zealand Animal Evaluation Limited, Queensland University of Technology, University of Auckland, University of Queensland, VetEnt, VetSouth and Victoria University of Wellington.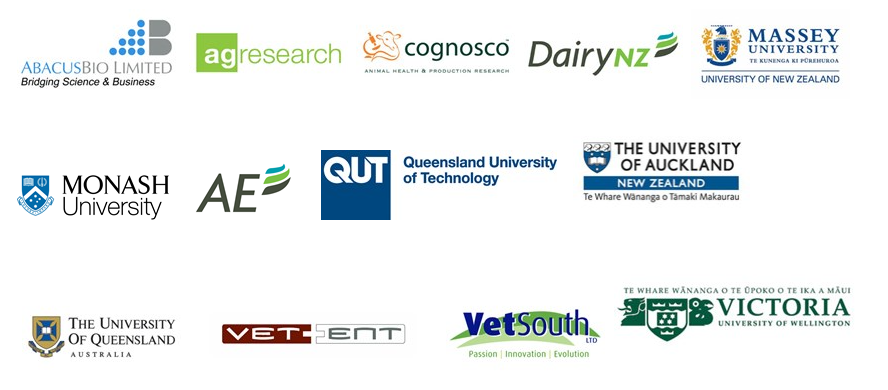 Tags related to
"Pillars of a New Dairy System"