The mission
What this research means?
Let's look what's happening
What's next?
Flexible breast rail
Exosuits for calf
Calf-pen gate
Want to know more?
Collaborators and funders
Talking Dairy podcast
Sprains and strains are common injuries on dairy farms, especially during the busy calving season. Research reveals that 40% of dairy farm injuries are due to sprains and strains, often occurring between August and October. Factors like long working hours, lifting calves or buckets of milk, uneven ground, and slippery surfaces in milking sheds increase the risk. However, there's good news: many of these injuries are preventable. Now, innovative solutions like easy-entry calf trailers, flexible breast rails, exosuits, and calf-pen gates are being developed and tested to reduce these injuries. Remember, your safety is paramount, so always look for ways to reduce risks and stay informed.

The Reducing Sprains and Strains project is designed to develop solutions that support a sector-wide reduction in sprains and strains. Keep a spring in your step by reducing sprains and strains during the busy calving season.
The mission
The project aims are to reduce sprain and strain injuries on-farm and develop practical solutions to avoid these. This project is in partnership with ACC, spanning three years from 2021 to 2024.
What this research means for you
The findings from this research are now incorporated into the content we deliver to you! Check out the Farm Health and Safety page for more information on how to stay safe this season.
Let's look at what's been happening...
2021-2022: Understanding the cause
Sprain and strain injuries are common in dairy workplaces. Research shows that they make up around 40 percent of dairy farm injuries.
The highest risk period for injuries is between August and October. This coincides with the spring calving season when we often see longer working hours and fatigue occurring.
In 2021/22, we surveyed 370 farmers and employees from farms that did and didn't experience sprain and strain injuries, and found that: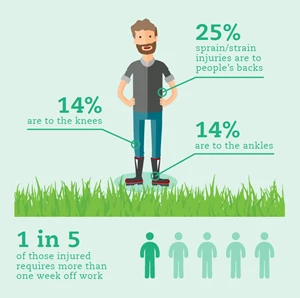 One-third of injuries occurred in the paddock
Back injuries from lifting calves or buckets of milk, ankle damage from uneven ground, and motorbike injuries were commonly reported.
The milking shed was another high-injury area, with 24% of injuries from slippery surfaces or tripping on hoses.
Before the injury, farmers were often working long hours. Most injuries occurred in the morning.
Many injuries were preventable.
Sprain and strain injuries have a major impact on farm teams. People who were injured needed 12 days off work on average, and around 27 days to fully recover.
Take a look at these short videos about the importance of preventing sprain and strain injuries on-farm.
Keep a spring in your step - Picking up calves
1 / 3 videos 1 min
Keep a spring in your step - Feeding calves
2 / 3 videos 1:04 min
Keep a spring in your step - Choosing the right footwear
3 / 3 videos 0:59 min
What's next...
2023: Easy-to-implement solutions
We're using the research results to work with farmers, specialists in workplace design and health and safety, and engineers to co-design and test solutions to reduce injuries, instead of relying on a behaviour change. These farmer-inspired prototypes are under development and out on trial on farms:
Easy-entry calf trailer
Research found that collecting calves from the paddock is an injury risk area. DairyNZ is working with QCONZ and Kea Trailers to design, build and test a trailer with easy-entry gates. The trailer gate has been trialled on farms in 2022 and 2023, with great feedback.
At the end of a three-week trial period, Carel Visagie from Oaklea Farms didn't want to give the trailer back. "It's so much easier to use. I think it would be a good option for a new trailer or as a retrofit." He added that he strongly believed the introduction of the self-closing saloon-type door would help to reduce injuries.
Farmer feedback will help to refine and develop the trailer to get it ready for market.
Features and benefits:
A spring-loaded, self-closing saloon door
High reinforcing bar to prevent stooping when loading calves
Latch function to prevent gate opening during transport
Off-set hinges to allow 180 degree opening for ease of unloading
Easy, faster and safer calf loading
Reduces awkward bending and lifting compared to when loading calves on other calf trailers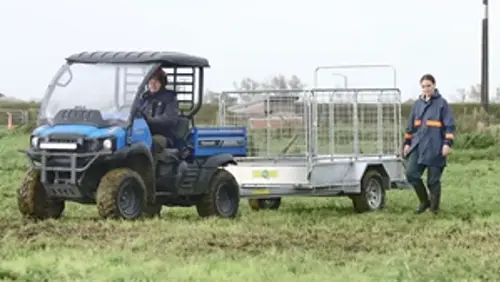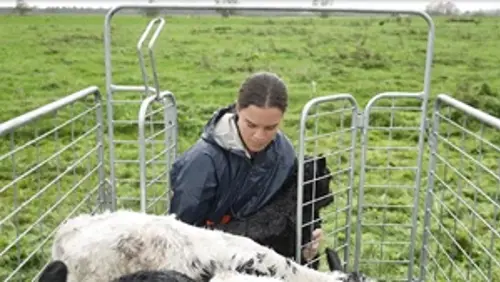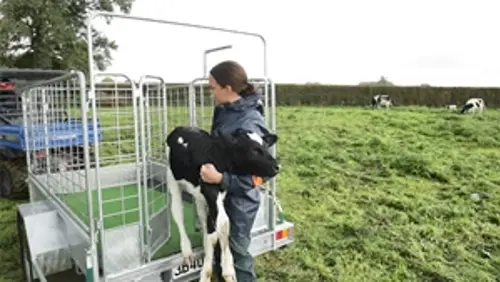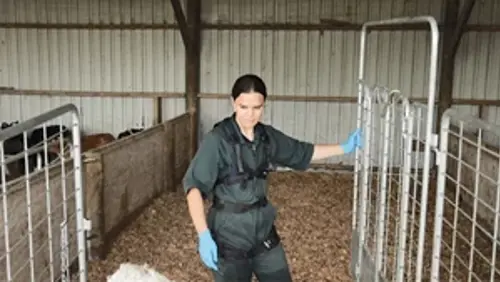 Flexible breast rail
Heifers and smaller cows in the herd often stand forward in the bail, meaning people cupping cows must reach to cup them. Over time, this leads to more strain on backs and shoulders. Inspired by farmer ideas, the DairyNZ team is testing a flexible breast rail concept. An elasticated rope is used at the front of the bail to encourage smaller cows to stand further back, while larger cows can still comfortably stand in the bail. We tested this concept in spring 2022 and are working on refinements.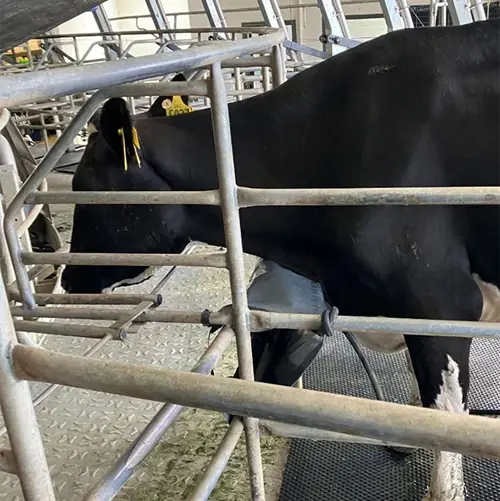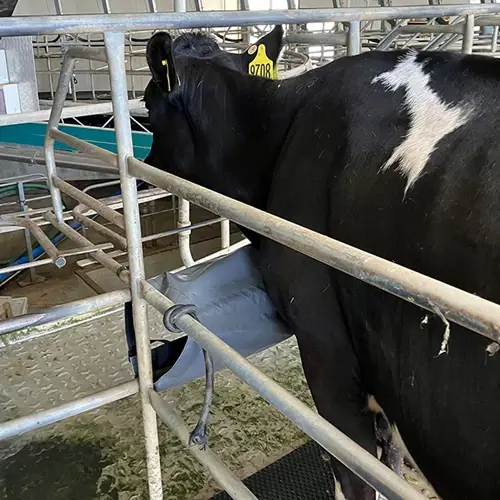 Exosuits for calf pickup and feeding, and cupping cows
Increasingly, lightweight exosuits are being used in repetitive work environments to reduce strain. So, why not dairy farming? Farmers told us that picking up and caring for calves leads to back strain, while cupping large herds can strain shoulders. We're testing three exosuits to see if they're effective for repetitive jobs in dairy farming. Initial testing has shown exosuits are probably most useful when worn for dedicated jobs on-farm, such as training calves to feed. Further testing is planned on farms and calf rearing operations this autumn.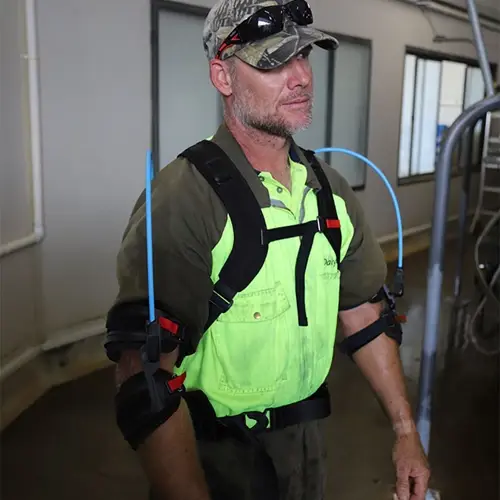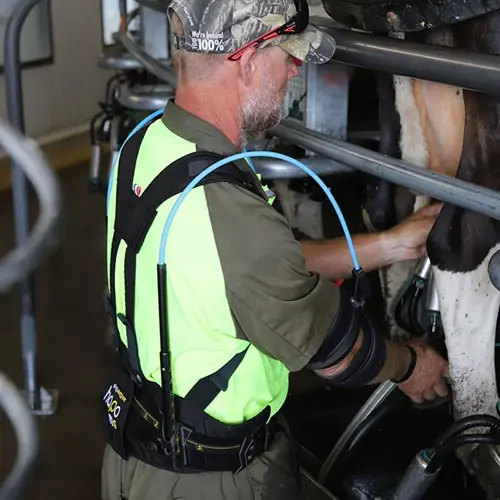 Calf-pen gate
Calf rearing is an intense time of year on farms, and there are several injury risk areas including lifting calves, teaching calves to drink, and lifting buckets of milk and feed. Additionally, moving between calf pens with heavy weight can lead to risks when reaching or climbing over. The co-design team created a concept of a saloon-door gate system to move between pens. DairyNZ are now working with QCONZ and Gallagher to design and test this concept on farms over spring calving.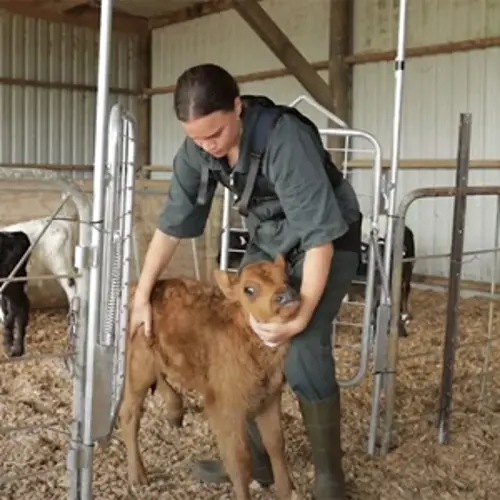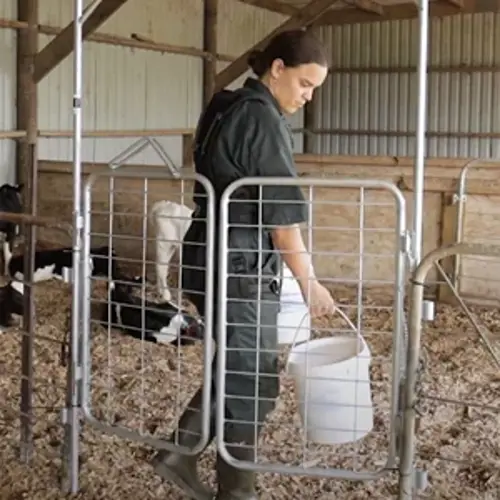 Collaborators and funders
This project is in collaboration with QCONZ, Healthy Lifestyle NZ, and Pāmu farms. This project has been made possible through $900,000 of co-funding by the ACC's Workplace Injury Prevention programme, supported by a $150,000 investment by dairy farmers through the DairyNZ levy.

Talking Dairy podcast
What do saloon doors and exosuits have to do with reducing injuries on dairy farms? They're among a range of practical ideas DairyNZ is trialling to help farmers avoid sprains and strains, particularly around calving time. Hear about the designs and prototypes, including a new easy-entry calf trailer and a flexible breast rail, from DairyNZ senior scientist Dr Callum Eastwood and Waikato dairy farmer Marcus Graham.
Tags related to
"Sprains and Strains"